If you are looking for some funny Elf on the Shelf ideas, you are in the right place. Let's explore more than 60 ideas in this article!
Christmas is around the corner, and parents cannot miss the tradition of Elf on the Shelf. This tradition can be a sweet memory in your children's childhood. Do you want to see their excitement every morning? Do you want to make something that your children always remember and talk about when every Christmas season comes?
It is high time you start making your children laugh happily from 60+ funny Elf on the Shelf ideas. Or even though you haven't had kids yet, you still can make them be the Christmas tree decorations or place them on your mantels. The ideas are all creative and easy for anyone to follow.
Don't hesitate anymore; the inspirations are waiting for you to explore!
The Origin Of The Elf On The Shelf Tradition
For some people who do not know about Elf on the Shelf, it came out of a children's book in the USA in 2005. Then, it became a phenomenon all over the world. Specifically, Santa sends the Scout Elves to each house, and their duties are to manage his nice list, take not the family's adventures.
Then, they come back to the North Pole nightly to report everything to Santa. When the sun comes out, these Scout Elves return and hide in a new spot. They will wait for someone and spot them.
When participating in this activity, parents or grandparents have to place the elf in different areas or rooms. They can wait for the kids to go to bed at night, or they can get up very early in the morning. This has been a firm favorite of many families when seeing kids run around the house to find the elf each morning in nearly a month.
How to join the Elf on the Shelf tradition?
To play this tradition, you should tell your children some following rules to remember:
If you touch your elf, their magic will disappear
The elves cannot talk, but they can listen so that you can share your wishes or secrets with them
The elves have to come back to the North Pole to help Santa on Christmas Eve
Elf on the Shelf Ideas
Olaf is an adorable snowman that every child likes. It would be best if you had some toilet paper rolls and orange paper to make Olaf. Then, use a black marker to draw his eyes and smiling mouth. Tada, you now have a genuine Olaf that will delight any Frozen fans!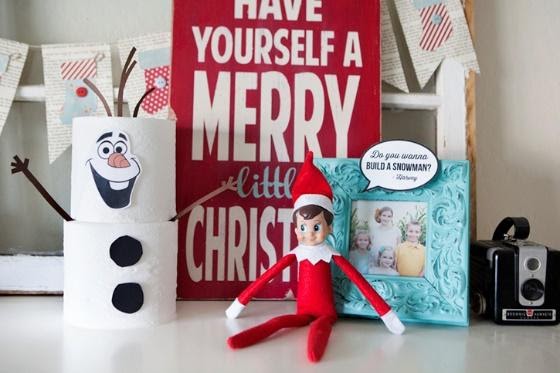 If your family has a member having a birthday in December, it would be fun to let the elves celebrate with pizza. Your children will be laughing at this arrangement.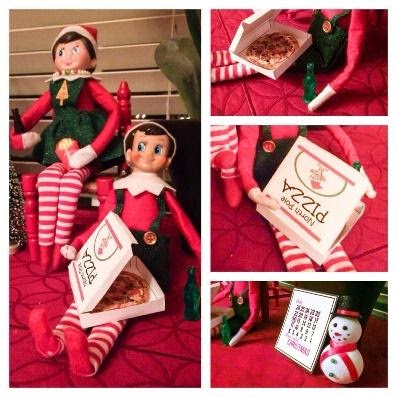 It is also another creative idea when you position your elf as in the image. It is like the elf has to do the household chore as well. This can encourage your children to look after themselves more and help you do some little housework.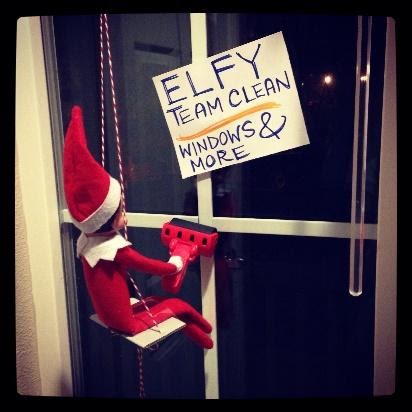 What if your children find the elves when they are doing laundry? They will probably be very excited!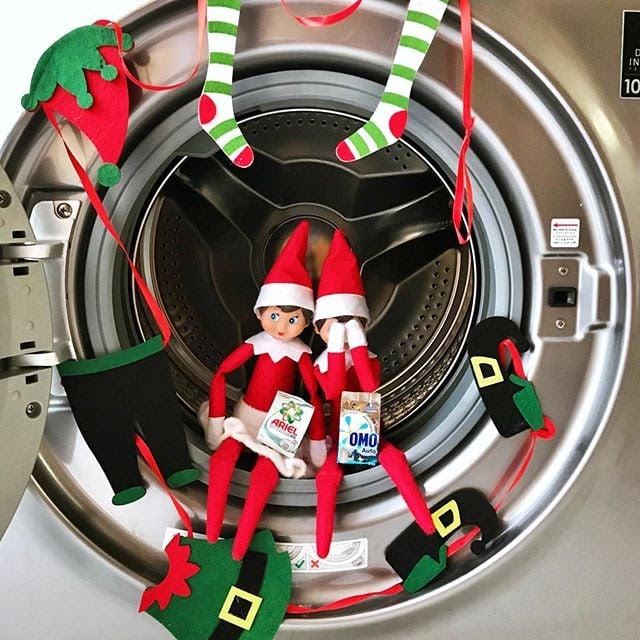 Oh, the elf needs muscles to help Santa bring presents for many children across the world, doesn't he? Your children might be immensely surprised when finding him!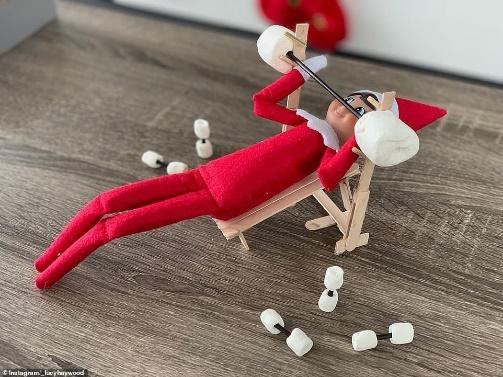 You can put the elf on the kitchen table with sweet wrappers staggered. To add more authenticity, you can smear some chocolate on the elf's face.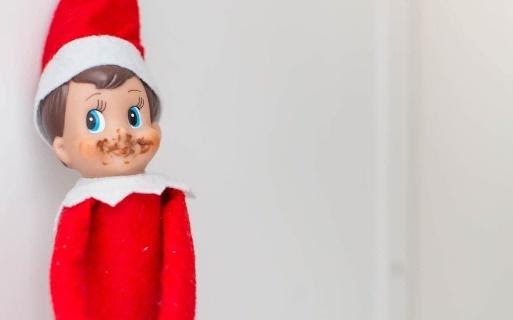 Stockings are often hung up in the fireplace for decorations, and they are sometimes considered a place for Santa to put the present in. So, the kids will be delighted when seeing the elf in their stockings. Many family households say that they do this once a year, at least.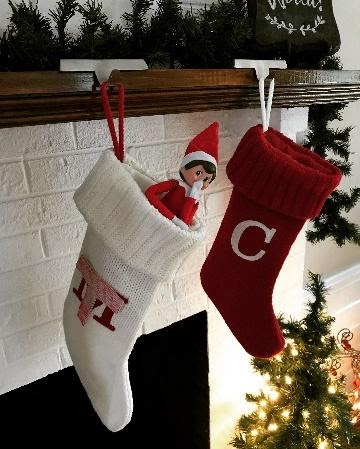 It is easy to set up a favorite board game with your children's toys. You can choose some furry friends, dolls, or robots, depending on your children's preference.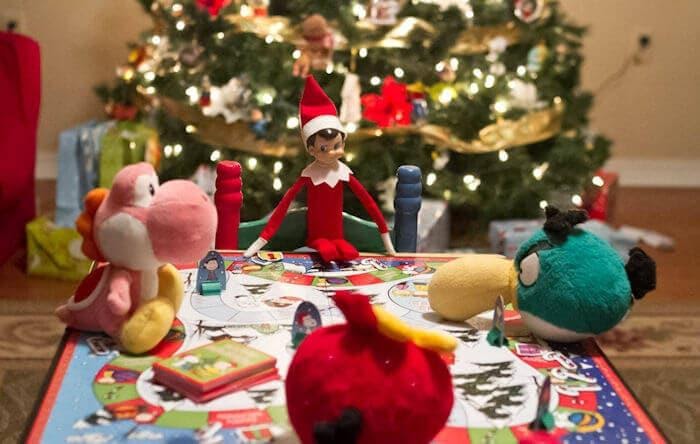 9. Elf on the Shelf at a Drive-In Movie Theater
If your kids love watching holiday movies, you can set up your iPad and the elf in the car to enjoy it together.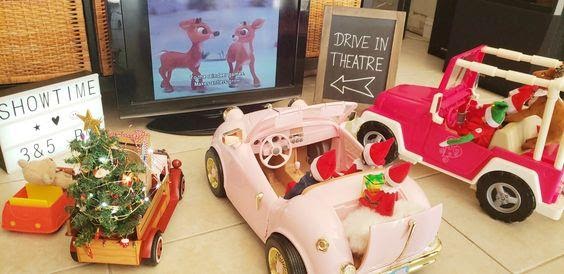 10. Elf on the Shelf Goes Sledding
The elf looks very funny when skiing. Give your home a Christmas vibe with this unique idea!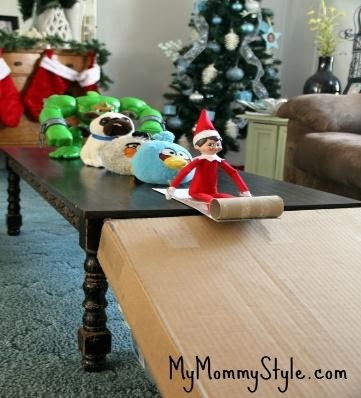 11. Elf on the Shelf Exercising
Even an elf has to keep their figure slim. Why don't you try to help him practice?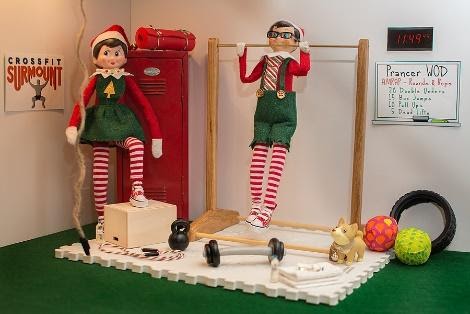 Although the elf is very busy during the Christmas break, you should still give him a little rest. How about playing golf? Use a small marshmallow with a lollipop to create a playground for him.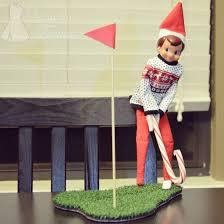 Burrito is a favorite dish of many people, including elves! Wrap your elf with a tortilla wrap. Lovely taco guy here!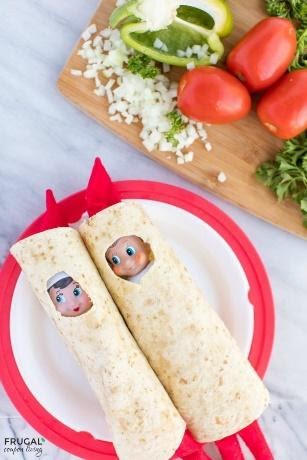 14. Elf on the Shelf With Doughnuts
If your children know that your family elf has brought back donuts from Mrs.'s oven Claus in the North Pole, he will be delighted!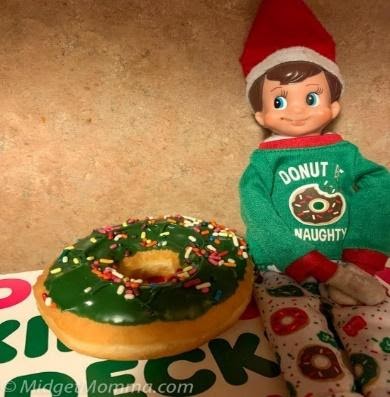 You can create a little tent for your elf with a book or tablet. Do not forget to put him in a warm sleeping bag.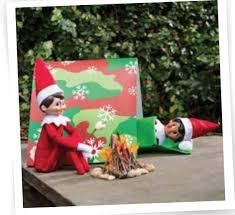 16. 'Harry Potter' Elf on the Shelf
Who is the most talented young witch? Harry Potter! Dress up your goblin into the "Harry Potter" guy famous for his iconic Hogwarts broom and scarf. And don't forget the mysterious cloak too.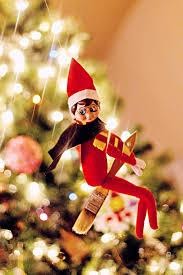 17. Elf on a Shelf Playing Scrabble
The Scrabble board would be the perfect place for the goblin. Set new records and receive Christmas-themed bonuses.
18. Elf on the Shelf Superhero
Superhero costumes will increase the prominence of the elf. With this unique outfit, he can comfortably fly in the air with his remarkable strength.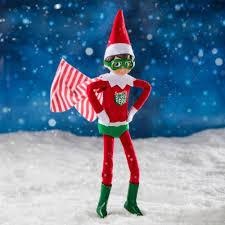 19. Elf on the Shelf Riding a Hot Air Balloon
Take the goblin anywhere with this hot air balloon. It does not look effortless at first glance, but it is straightforward. You put your goblin into the hot air balloon and hang it from the ceiling. That is very wonderful!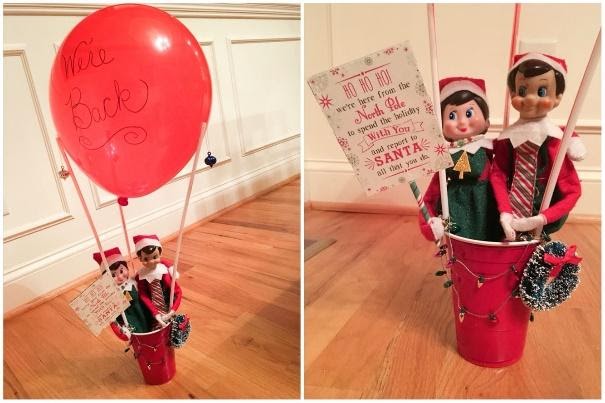 20. Elf on the Shelf Sack Race
What is more thrilling than tracking a race? Bring the indoor atmosphere to life with this game now!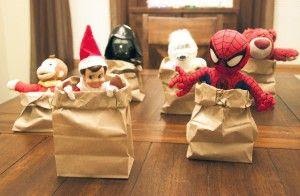 With just the sliding tail, you can quickly turn your elf into a beautiful mermaid. For added realism, keep them next to the tub and sink.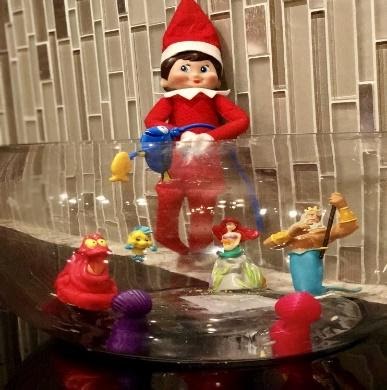 22. Elf on the Shelf Wrapping Gifts
Small gifts wrapped in brown paper wrapping can quickly melt people's hearts. They look so cute, don't they? Gifts may include jewelry, small candies, and a piece of cake that house-elves will bring to your family.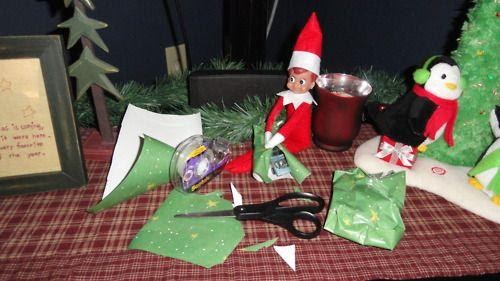 23. Elf on the Shelf Candy Cane Sledding
You can easily make these little candy sleds with some hot glue and a few lollipops. It's that simple.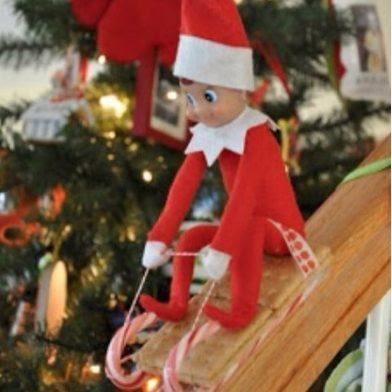 24. Elf on the Shelf Drawing Banana Minions
What if your elf is a professional painter? He definitely won't miss the chance to draw minions on fresh yellow bananas.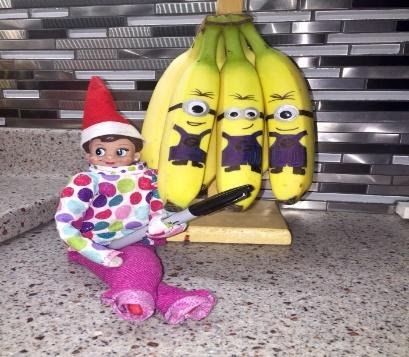 Your kid will indeed be touched if he knows the house-elves make the cake for him. What could be better than a sweet waking morning?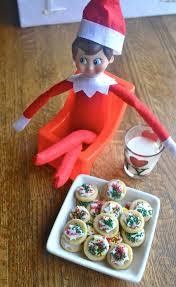 26. Elf on the Shelf Playing Extreme Hide and Seek
Disguise your elf with a few dry erase marker strokes. This disguise will help him hide well in the Christmas tree.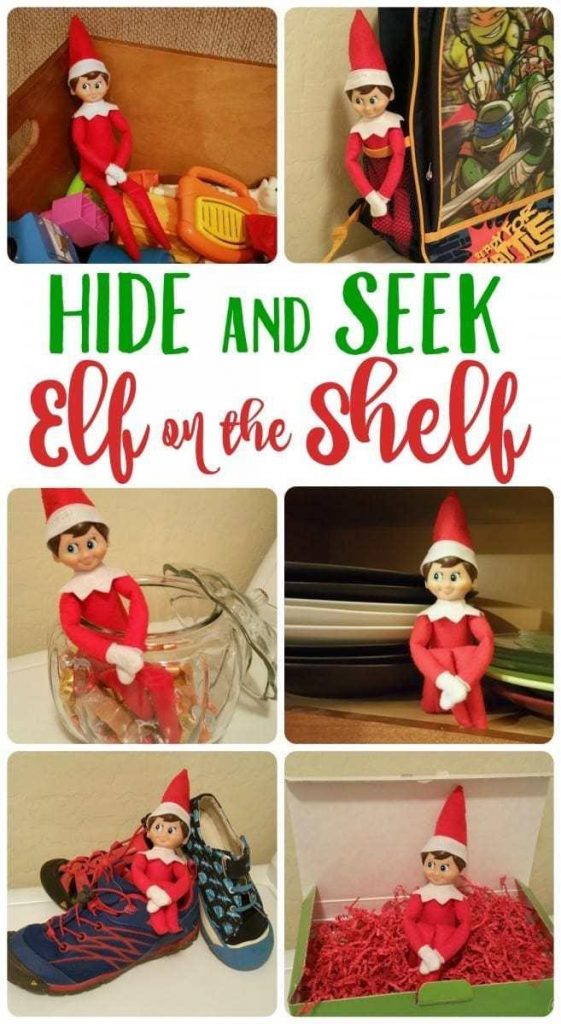 A poodle dress with a classic reindeer motif will make your elf more adorable than ever.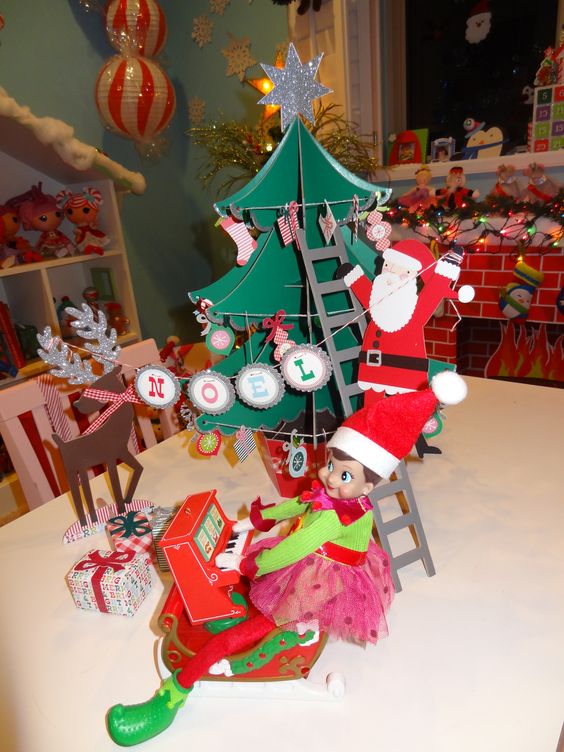 28. Elf on the Shelf Re-Caffeinating
When overworked, the elf will also feel tired. At this point, a cup of coffee is a perfect choice. Take him to your home automatic coffee machine.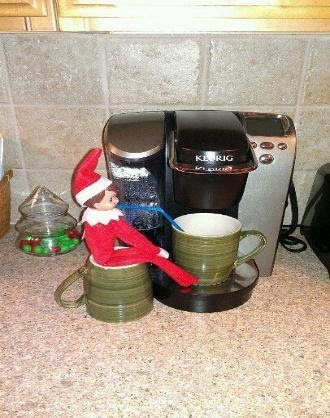 29. Elf on the Shelf Taking a Sick Day
Anyone is likely to get sick, even the elf is. Give your house-elf rest to heal quickly. Don't forget your doctor's advice.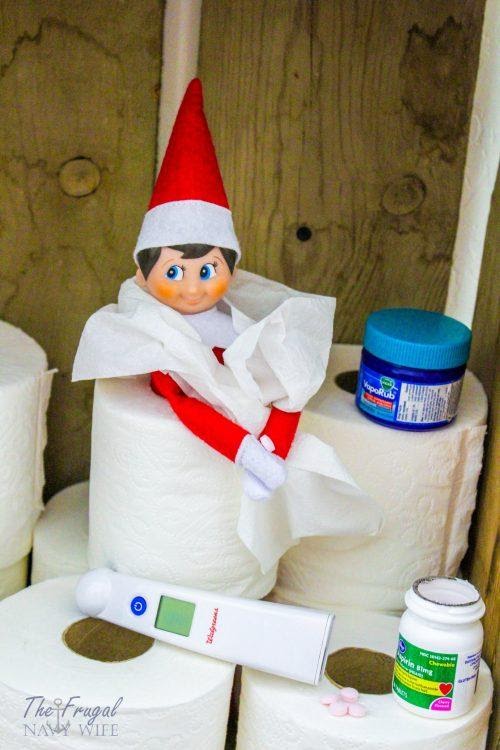 30. Elf on the Shelf Taking a Spa Day
Spa day will help reduce stress as well as regulate the elf's body. Anyone who feels exhausted needs a spa day.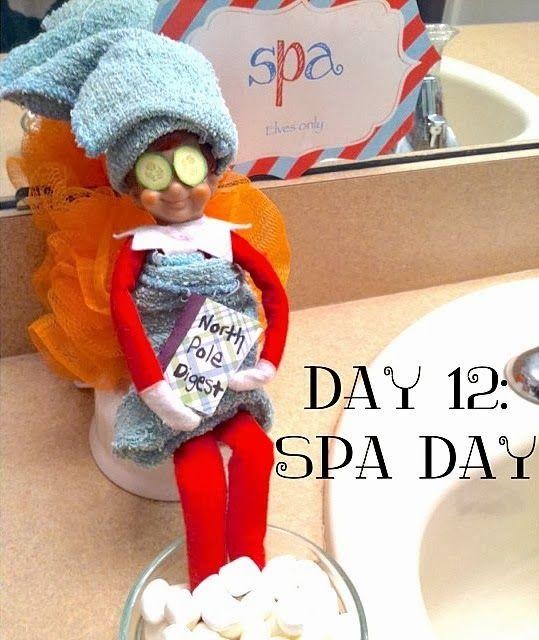 31. Elf on the Shelf Staging a Photo Shoot
Capture the beautiful moments of your lover by taking pictures. Don't forget to bring in other toys and make them a few props.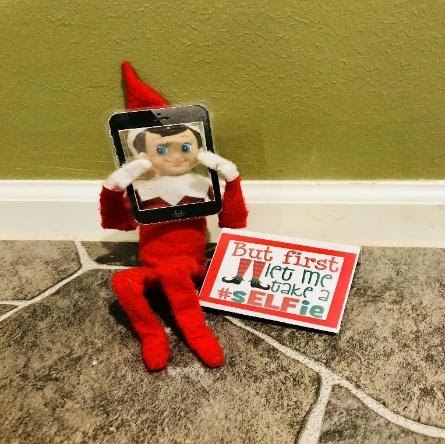 32. Elf on the Shelf in Quarantine
The elf man cannot forget this mask this Christmas 2020! Remember always to wear a mask carefully to protect your health. You can use this to remind your child. Always wash your hands clean, avoid close contact with many people to ensure community safety. Joy must go with health!
33. Elf on the Shelf Peeking Into Gifts
Wow, it looks like someone is stacking presents under your pine tree. The elf will give out gifts at night with Santa Claus. Given his curious nature, he will want to peek at some of the gifts. Lovely but also mischievous. Hopefully, he does not know too many of the secrets in the gift boxes!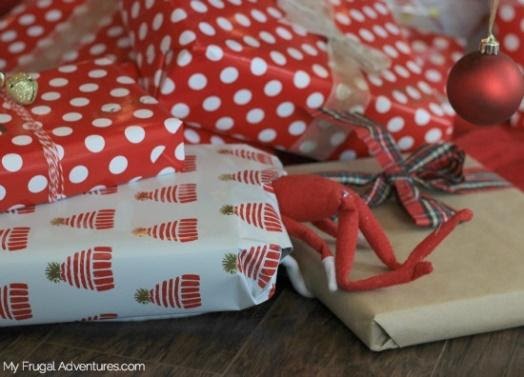 34. Elf on the Shelf Gone Fishing
It seems that the elf loves to go fishing to relax. With just a few Goldfish biscuits, you can easily create an aquarium for this guy. First of all, you should clean the sink of your home. Then you take some small Goldfish crackers. Do not drain the water as it can damage the cookie. Put the elf on top of the sink, and you have got a fantastic aquarium.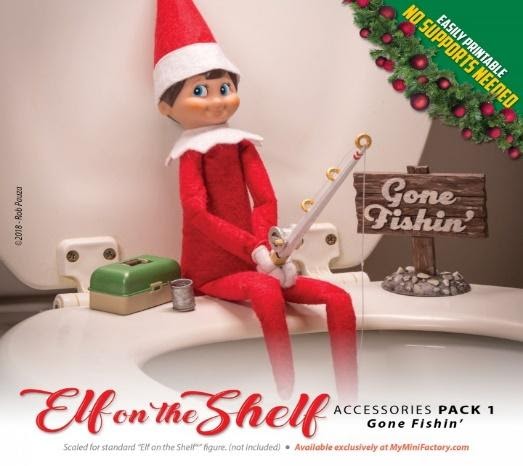 The elf must be very hungry because of having worked so hard. Give him some snacks to help him recover. You can put house-elves in a bowl of biscuits or snacks. Also, don't forget to make him look devoured using the empty wrapper.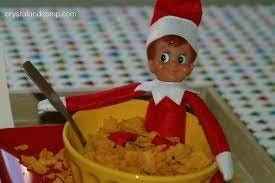 36. Elf on the Shelf Taking Selfies
Who says elves don't like to take pictures? You can take a few pictures of house-elves taking a selfie with his friends. Then, use the Polaroid photo as an accessory and display these elves next to it.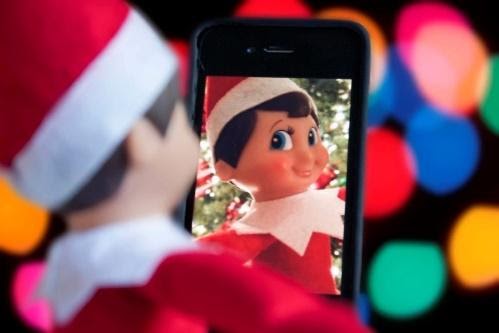 37. Elf on the Shelf Decorating Eggs
Eggs are not only a symbol of Easter but also the perfect ornament for a warm Christmas. Why can you skip this ornament? Use the nontoxic brush and paint some funny textures on each egg (they must be Christmas themed of course). Put lovely elf next to these eggs, and you have got a fantastic decoration theme!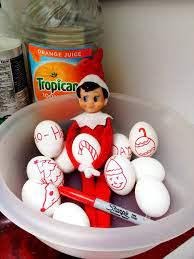 38. Elf on the Shelf LEGO Ambush
LEGO minifigs can create big problems. Must arrest the elf giant! He can destroy an entire city of LEGO. Use a small cord to wrap around the elf and put some LEGO minifigs around.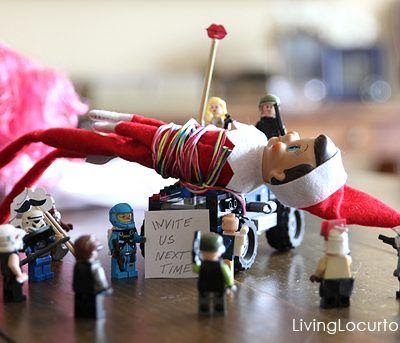 39. Elf on the Shelf Reading Books
Your house-elf is a book boy. Reading a lot will bring me a lot of knowledge—what a good boy. A morning to wake up to this sweet scene would be great. Create a tiny book for the house-elf and place it around with a few other toys. What a warm setting!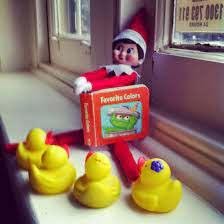 40. Elf on the Shelf Eating Candy
Do you know what the common ground between elves and babies is? They all love sweets, especially candies! The elf cannot refuse the sweet candies. He will be very touched if you give him some M&M's. The elf will not be able to control this sweetness!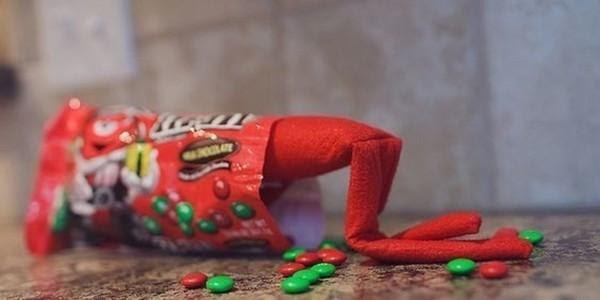 41. Elf on the Shelf Mourning a Melting Snowman
Don't worry when the snowman melts. He will be right back. Reassure your elf and kids that the snowman will be OK with freezing again. Buy a pre-beaten snowman, or you can create your own.
42. Elf on the Shelf Making Snow Angels
An indispensable game for Christmas is to make a snow angel. The elf guy loves this game too! You can pre-create a snow angel frame and put him in it. Rice, flour, or sugar are all suitable.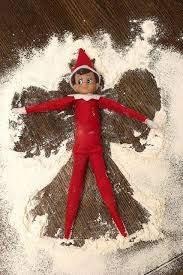 43. Astronaut Elf on the Shelf
The brave astronaut is here! The house-elf also controls the ground exceptionally well. Use foil and wrap your elf. Who's the little astronaut? You can make him an astronaut hat for a more realistic feel. Hang him on your ceiling fan or lights with a few glittering stars.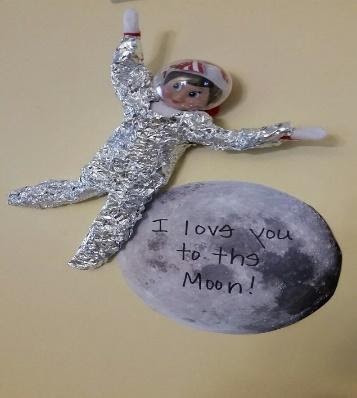 44. Elf on Shelf Walking the Dogs
Do you have some cute little dog statues but don't know what to display? Then why not let the elf take care of them? Use a few small strings to make a leash. Tie them around small dogs to help your house-elves walk their dogs.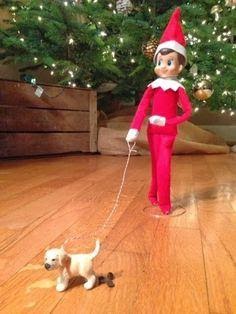 45. Elf on the Shelf Climbing Up Decorations
Your elf wants to go hiking to get fit this Christmas season. Create a Christmas sportspace for him in your own home. You can hang holiday ribbons on your door or wall. Attach him to them, and you are done.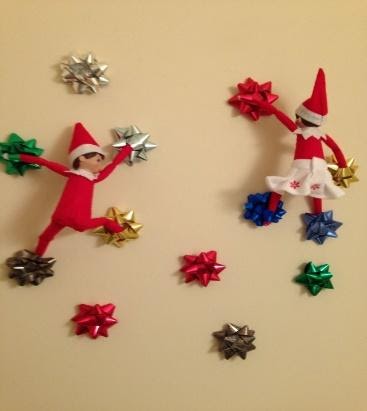 Does it look like someone is falling in love? Your Barbie love story with the elf guy receives the support of many friends. Why not try to make a romantic date for them? Dress the elf in a suit. Make sure Barbie will fall in love with it. A candlelit date is an impressive one.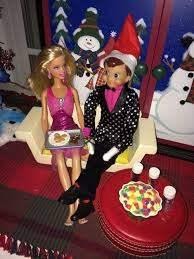 Let the elf man take care of the puppy for you. He will not miss this opportunity because he loves adorable puppies. You can put dog food in a toy truck and have the house-elf sit on it.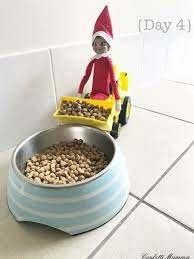 If your child has too many toys, how should you decorate it accordingly? What about a toy parade? This decoration helps you make use of all the toys in the house and creates a unique arrangement.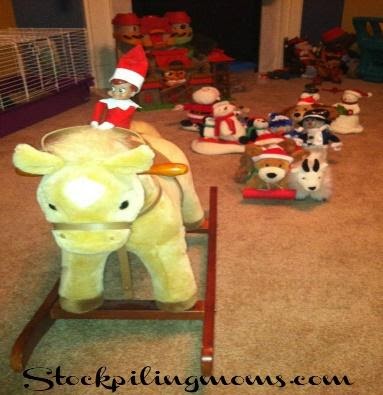 49. Bank Robber Elf
The elf is streaking over your kid's piggy bank. Surprise your kids by letting him up the pig saves right away. Do not forget to put on a mask for him.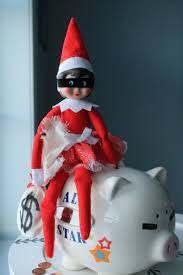 The house-elf wants to help you wrap up the gift boxes. Tease him by wrapping him up. He seemed to be immensely amused.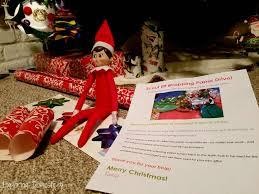 This idea is pretty easy to implement if you have a few toy cars. If you do not know where to arrange them accordingly, you can build a racetrack for the elves. Let him know what speed is.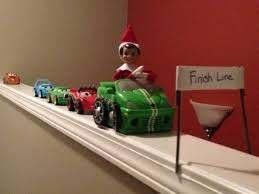 52. Elf and Christmas Count Down
Everyone often is not patient enough to wait for Christmas to come. So, how about giving your kids a visual of this big day with a mini countdown paper chain? They are certainly more eager and excited to welcome Santa.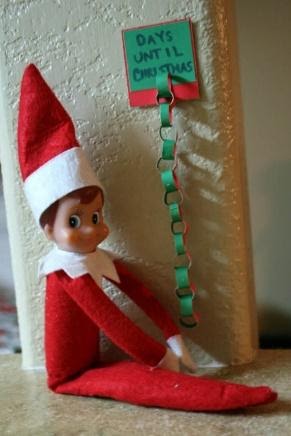 Another fun idea for parents to try with their children. What if, in the morning, the kids find out that the elf traps them? Are they worried or surprised? Many parents used this idea and said that their children yelled happily. Why don't you try this super easy and fun idea?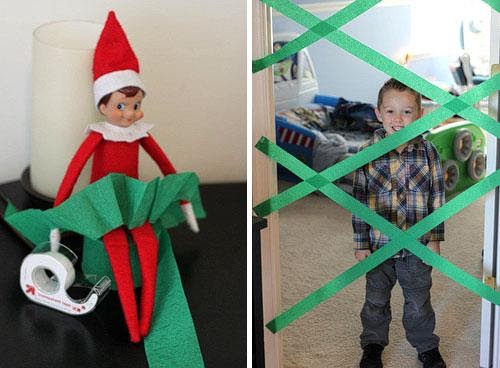 54. Elf Having Bath
You can put the elf in a basin full of cotton or marshmallow with a letter. If your children are confused when seeing him lying in the bath, you can read the letter as the elf cannot talk. You can also consider that the elf greets and explains why he is having a bath now. Your kids must be very joyful.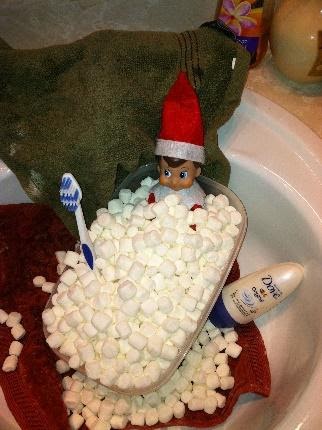 Marshmallow is a preference for every kid, especially when they are roasted. Imagine that you and your kids roast marshmallow on a cosy night. Does it sound heart-warming? Let's arrange the elf with some marshmallow around and pretend as if he is toasting them. It might remind your kids of some warm feelings and touchy memories.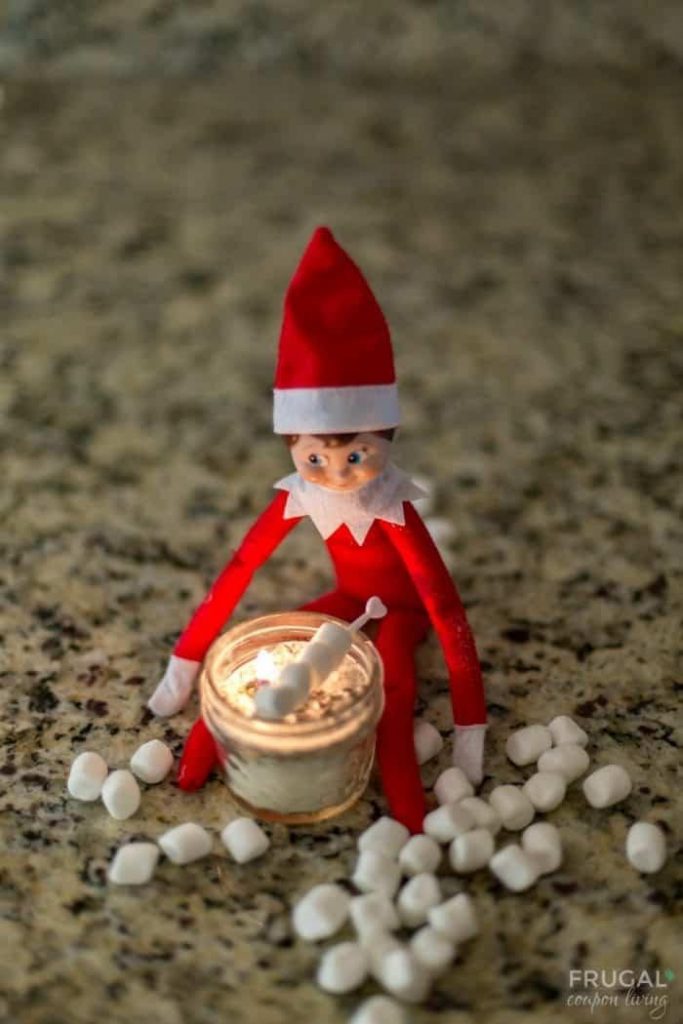 56. Elf on the Shelf On A Rainy Day
On a rainy day, you can put on a raincoat for the elf. It seems that the rain might make him upset as he cannot go out to play with kids. So, he should wear a raincoat, and he is delighted as he will not be wet anymore.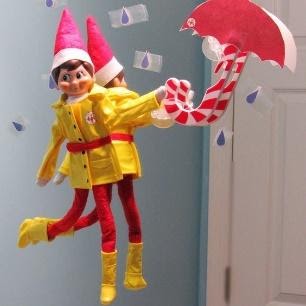 What makes your children more thrilled than being made breakfast by the elf? Is it amazing? It means that the elf is also taking care of them. So, elf and your kids can be friends forever.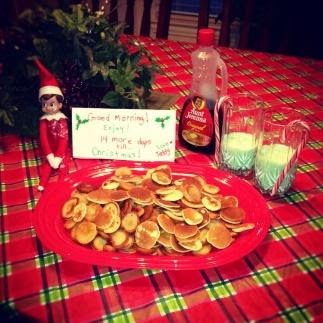 58. Elf Hiding In The Lunch Box
This is a genuinely exciting idea. Notably, some children often hate going to school. But, when they see the elf in their lunch box with encouragement, they may cheer up. It will be a useful way for parents to motivate their children on school days.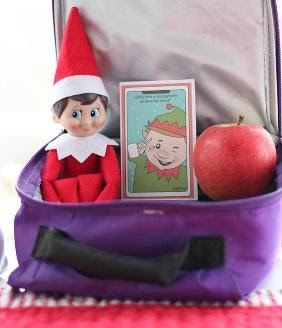 59. Elf on the Shelf Being A Clock
You can place the elf in the middle and many sweets surrounding him in a circle with this idea. The sweet will be the clock face while the elf's two hands will be the hour-hand and minute-hand. Otherwise, you can simply stick the elf on an available clock in your house, like the following image.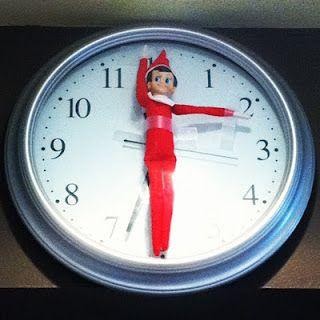 60. Elf Playing Guitar At A Small Concert
It is possible to let the elf play a small guitar. You can pretend that he needs to do a show to have enough money to buy a one-way ticket and fly back to the North Pole. To make the show more sparkle, you can add some LED lights and put some fluffy audiences and dolls around. That helps the show look more stunning and attractive.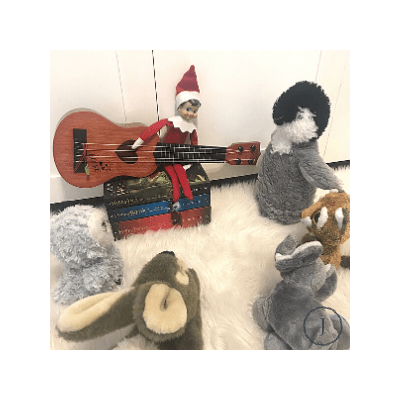 61. Elf Sewing
What do your girls think if they see the elf sewing clothes for their dolls? Who can think that the elf knows how to sew? It's unbelievable that the elf can do multiple tasks.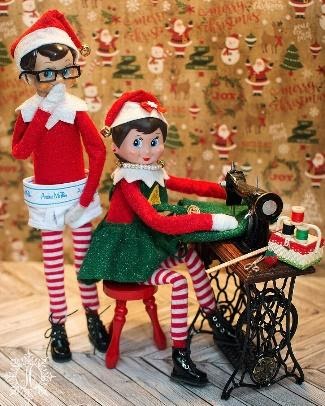 62. Elf on the Shelf Off to the North Pole Again
Although the house elf is a very lovable guy, we only get to see him for one Christmas of the year. But don't be sad because he will always visit your family for other Christmas occasions.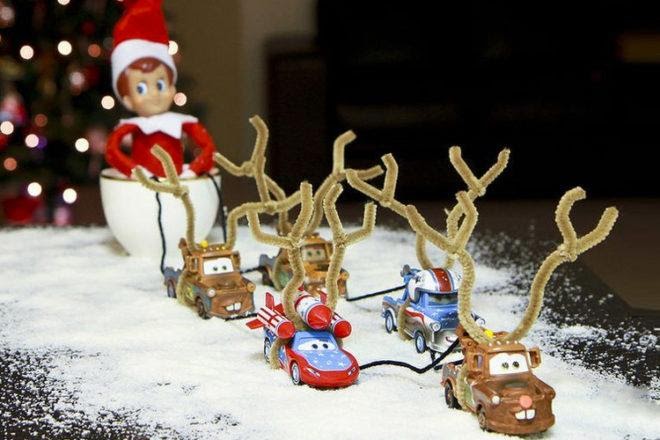 Do You Like Those Ideas?
There are a lot of funny Elf on the Shelf ideas you can find out or think of yourself. To bring the Christmas spirit to your home, you should play the Elf on the Shelf with your family members. It certainly helps the atmosphere in your house become more festive and vibrant than ever before. If you have any exciting ideas, you can share them with all of us!