What do we need to actualize sensory bins ideas for toddlers? Here are numerous ways you can prepare one with minimum cost!
Toddlers are not yet ready for long lectures about anything but fun activities. If you want more than a toy which can teach your children about their surroundings, but not too serious like lessons, then sensory bins are good to go.
They must be the most economical but most educational entertainment for small kids. This article shows you more than 50 sensory bins ideas for toddlers that you can swift regularly. Let's go!
If you have cold feet about sensory bins, we have the below sector, which can explain why you should create those for your lovely kids.
Will Sensory Bins Really Help my Kids?
Sensory bins, as we see from images, are just a container with so many things. Why do we have to collect that unmatched stuff to make a toy that we can find a lot of cuter at stores? Sensory bins are easy home-made toys, not to mention considerable benefits in educating children early.
First of all, grabbing things could help children to boost their motor skills. We have so many things with different shapes, angles, materials which need different grip styles. Building motor skills is never too early for kids.
Also, contact with multiple objects at a time can expand kids' concentration. We used to know about them as the little ones who can't focus for more than a minute. You can change it by making them practice with sensory bins where they have a lot on plates.
Making them busy with the new objects and practicing how to sense them will keep children calm. They are yelling all the time, mostly because they feel bored. So, why don't you give them some work?
At early ages, toddlers should know about how surroundings feel like—having bins with a lot of things they never touch before indeed contributing something into their recognition. At least, we want children to know what noodles are like without reading a whole article.
People apply sensory bins ideas for toddlers in education a lot. Some children even get more positive changes from these handmade collections. The below shows a variety of ideas.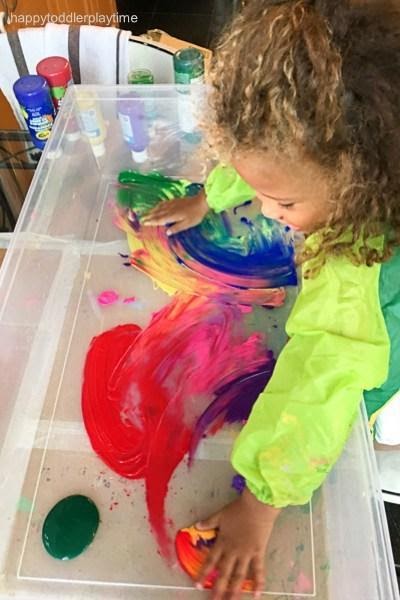 An activity with the color box
This bin must be the simplest one regarding preparation and clean-up. You don't need anything bulky except a big container where you put on different paint colors. For toddlers, it's best if you can make edible paints. Or, you have to watch them playing with acrylic.
There is no specific request for the bin, but you might want to use the low-barrier one since children can lean on easier. Besides, a raincoat for kids will keep their clothes safe from color splash.
Pick the balls
You can make some with small food containers when you don't have a massive plastic bin like most sensory bins ideas for toddlers tutorials. These bins contain water with different objects. You might want pompoms and small balls since they are colorful and easy to grab.
Then comes the lesson about what floats and what doesn't. This bin is safe with big objects and clean as there is only water.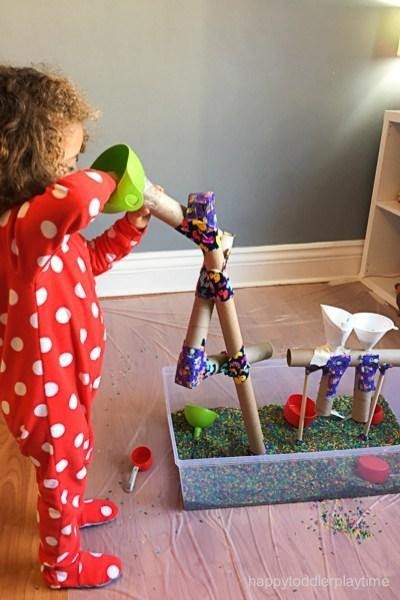 Basic machine with carton
Don't throw away toilet paper cores as you might come up with some ideas. Like this bin, you can build simple raves with some tapes. It's an excellent way to keep children concentrate by pouring objects and watch them come out of tubes. Also, the activity can train children's skills in precision. The base could be beans, rice, or plastic articles that you can buy in bulk at stores.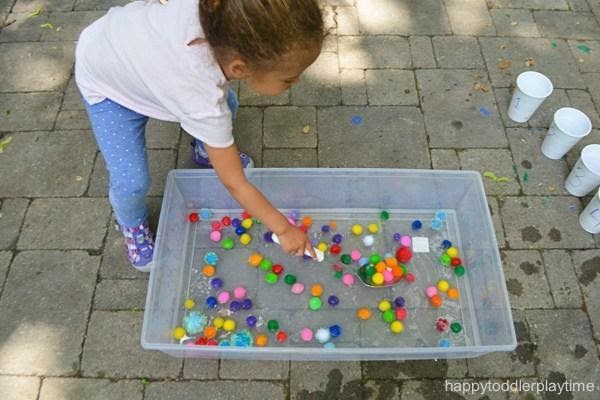 Fish the ball from the bin
You don't need fish to play a fishing game. Children can have fun with each other with some plastic ball, water in a big box, and a couple of soup spoons. You can organize a simple scooping game but also elevate it into a competition. Scooping and sorting could go along so that children get more activities to engage. This bin looks like a good summer game.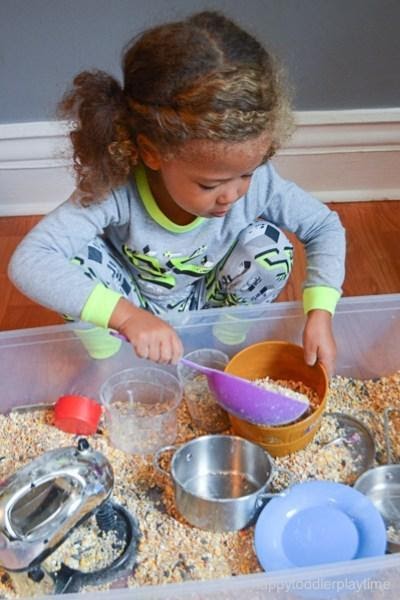 Fill in different containers
Children don't like you to lecture them on how to differentiate things, but they like to play. If you want them to know how different containers look and function, show them on the game.
This sensory bins idea for toddlers includes basic items taken from any kitchen. The base could be rice, beans, smashed paper, or bird food. All combined, it produces an exciting box for them since we have never let them touch the cooking ground.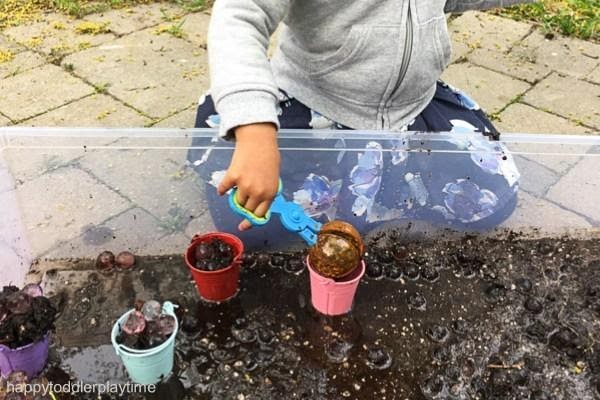 Pick up things from the bin
This one looks messy but works amazingly. Children who want to play this must learn another rule: what belongs to the box stays inside the box. The mix could liquid paint with bird food, and you can get little containers in toy stores.
Don't ever worry that children may lose interest when seeing this one. They would love this mud-like texture since they are kids!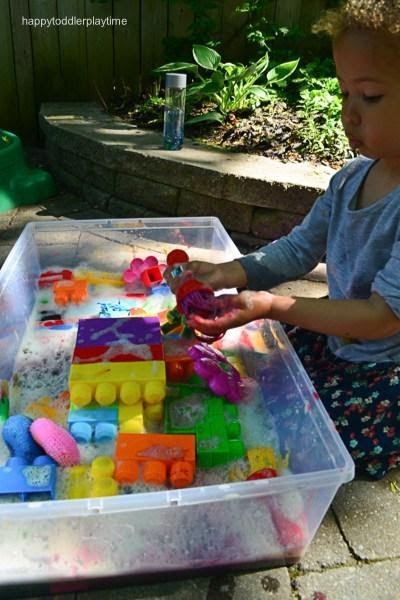 Cleaning things with soap
If you want your kids to know about toxic components without misleading them, take this idea. The box is full of plastic stuff that needs cleaning up. Using soap for this teaches children the sensation, smell, and function of the chemicals. Besides, it's a good idea to keep them busy doing something useful. We recommend using skin-friendly soap as children's skin is so sensitive. Also, you better have this activity out except that you like messes.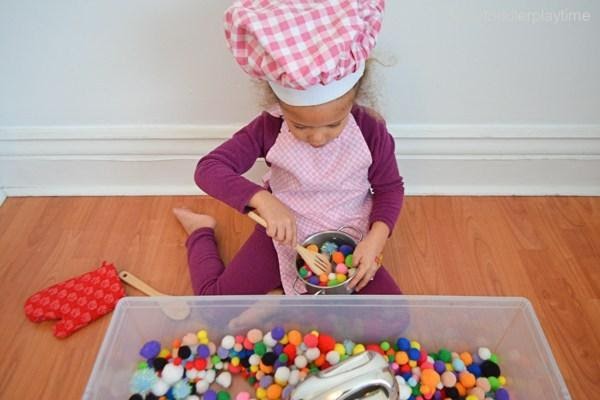 Cook with Pompom
The pompom is one of the most prevalent sensory bin materials because of the variety in colors and size. Also, you can buy them in bulk easily in stores.
Pompom kitchen box is a classic idea to help kids practice using kitchen tools like spoons, mixers, and gloves, and so on. Toddlers are too young to join us in the kitchen, but they grow curious all the time. Hence, why not give them a chance to be a chef?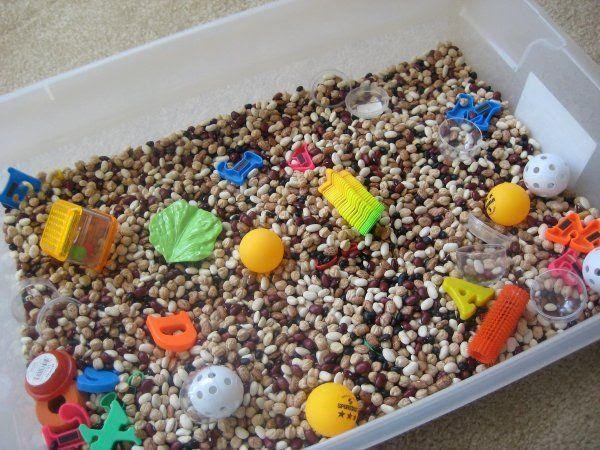 Digging the bean box
Beans like pompom are easy to find in groceries, and they come in many sizes and colors. It's a good base for sensory beans if you want toddlers to enhance sensing things and sorting colors. However, you can put more particles to have a treasure hunt or letter hunt depending on how long the beans catch your kids' attention. However, you better keep an eye on them at first in case they eat these beans raw and get stuck.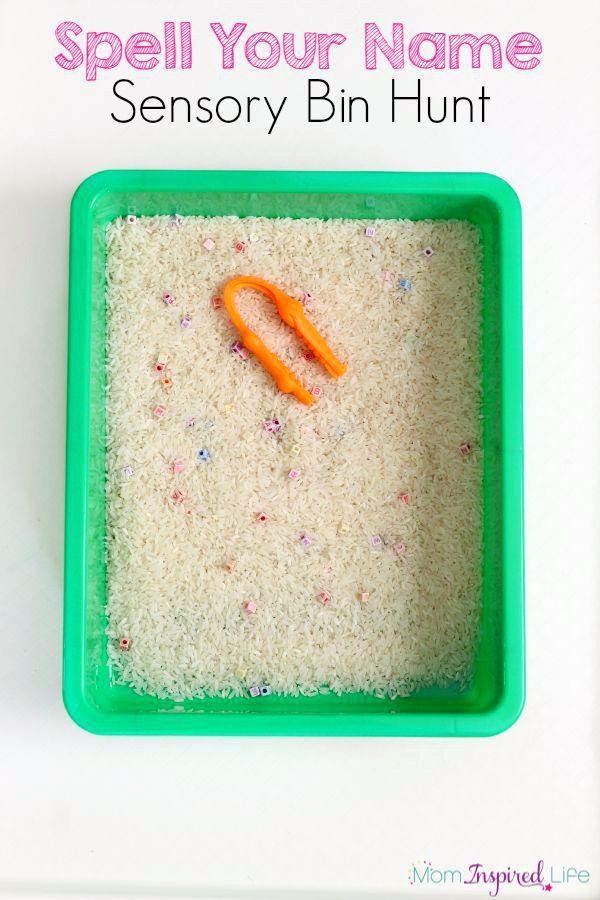 Letters mixing with rice
This lesson needs more concentration. The bead with letters and the rice are all small so that children need to cooperate with both eyes and hand manipulation.
This activity may keep the kid busy for a long time. Not only names but words in themes could bring to the table.
You can modify the base, and the letters depend on the toddler's skill. Or, what you have in the house could be useful for making this bin.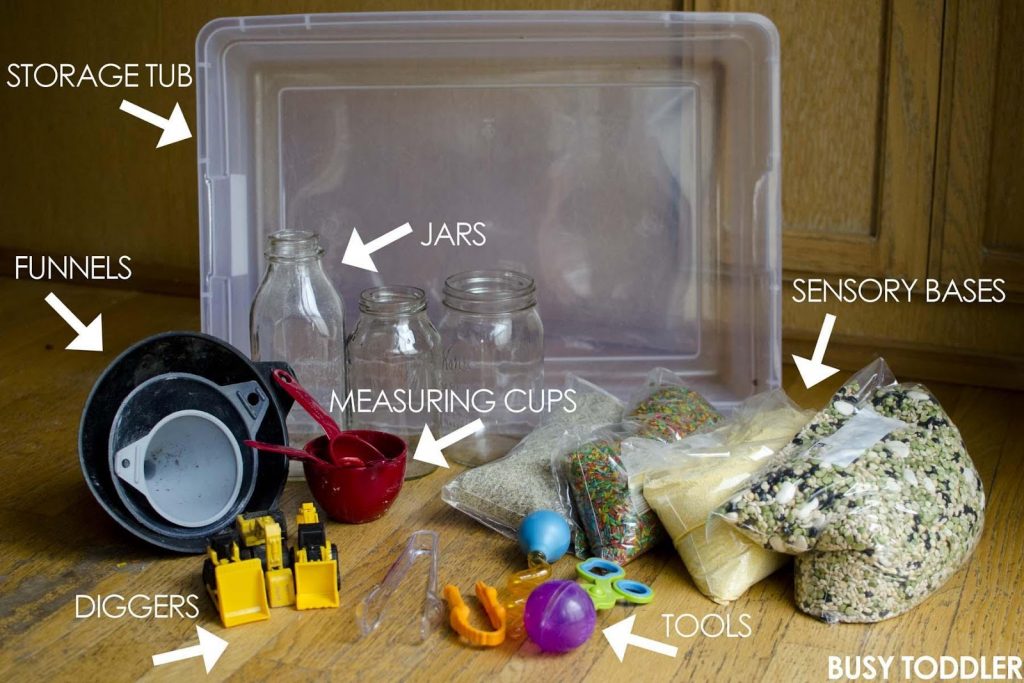 There are so many things to measure in daily life, but it's hard to make kids remember each. So, the best way to make them spend time on them. This sensory box asks children to perform many motor skills, such as grabbing different shapes, pouring, and balancing.
Different containers should be various in materials and size to memorize each type's weight. The more you put there, the more time they spend there.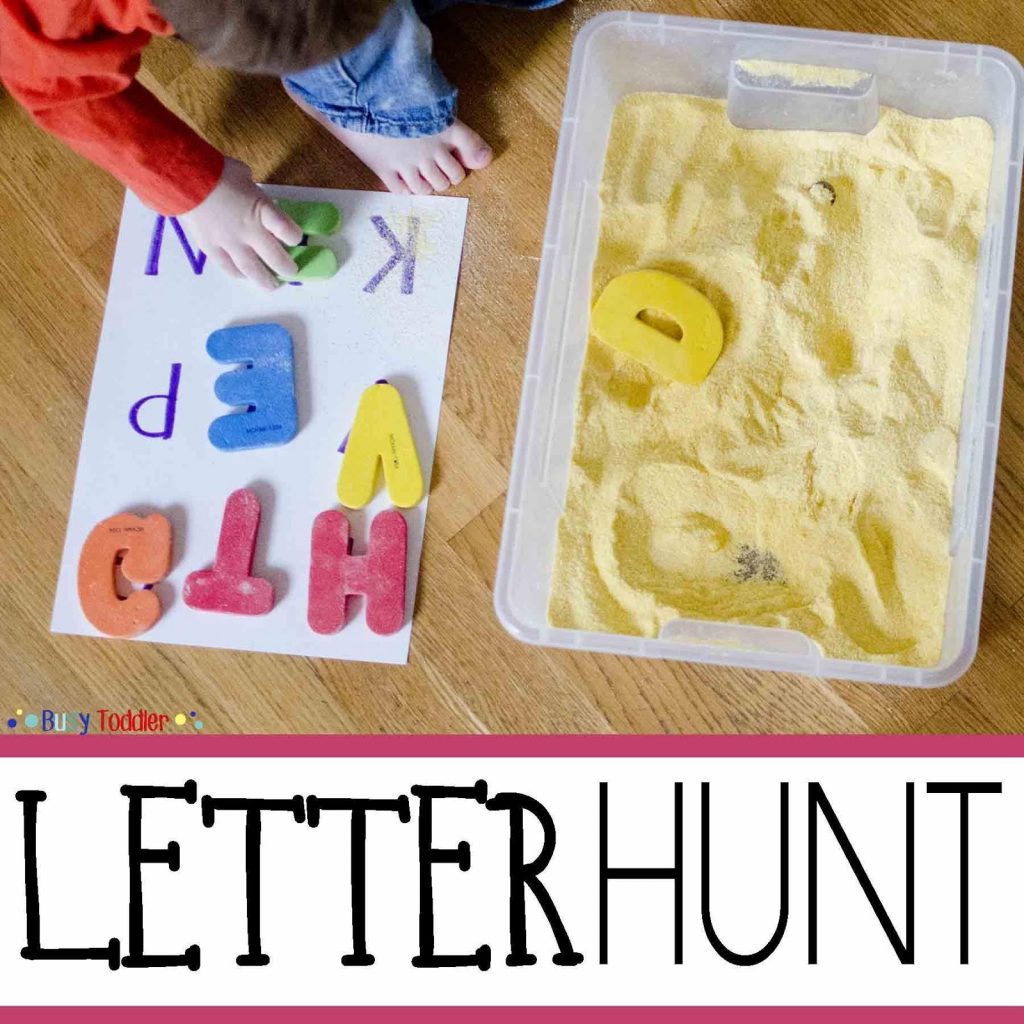 This bin suits the best for small toddlers. What you need is kernel powder with plastic letters. If you want a stimulating alphabetical lesson, this one works amazingly.
We recommend any powder which promotes an exact sensation on the skin. However, as it is a hunt, you need to have enough base to cover up the letter.
Parents can modify this letter hunt into an object hunt. Or, you can make it into a competition in case there are more than a toddler wants to play.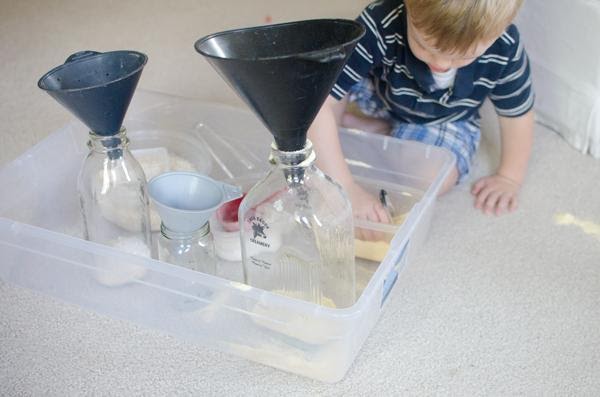 When you want to turn the target into fine motor skills, a scooping bin will be a good idea to start. All you need is just a couple of containers in the house and whatever to scoop material.
Children have to work on filling containers using a small scooper. To do so, they must concentrate and keep the balance for a while. Funnel is optional because children are differently skillful.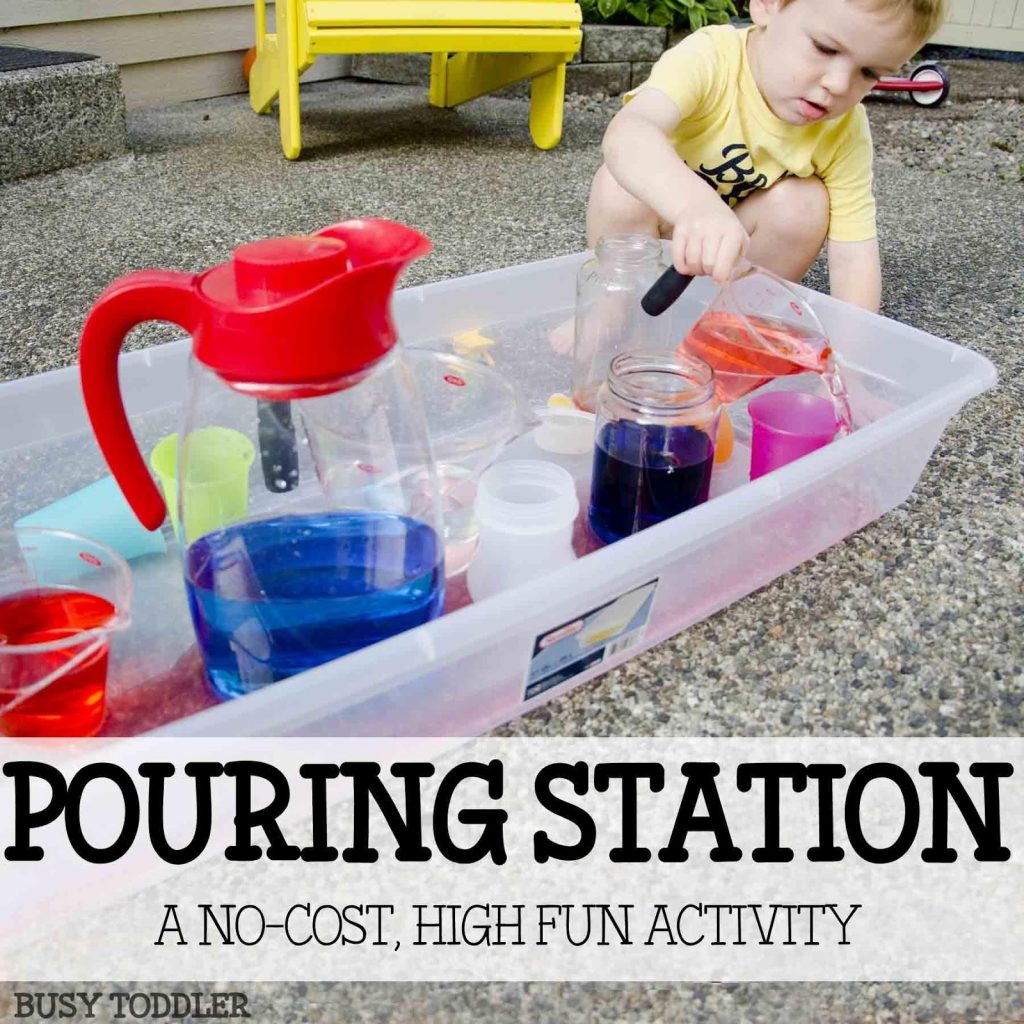 When you don't have something to scoop for the overhead bin, a pouring pin seems reasonable, too. However, to enhance children's color recognition, we recommend using color to make a different liquid. They can learn about the primary and secondary colors from this activity, too.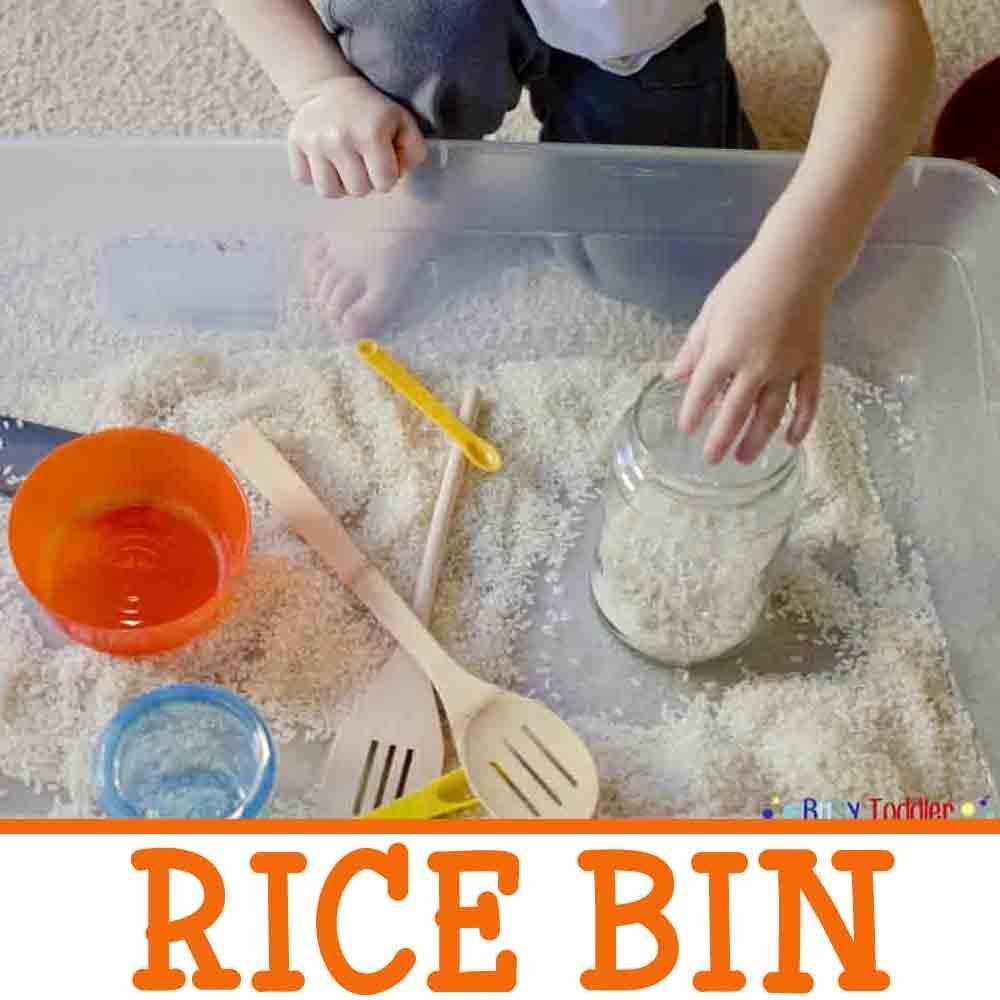 Rice is something you can get from any supermarket. More important is that rice has a good texture that children love to play with, not alone its taste-safe quality. When you are out of everything to create a sensory bin, a rice box with a couple of containers and scoops will buy you time.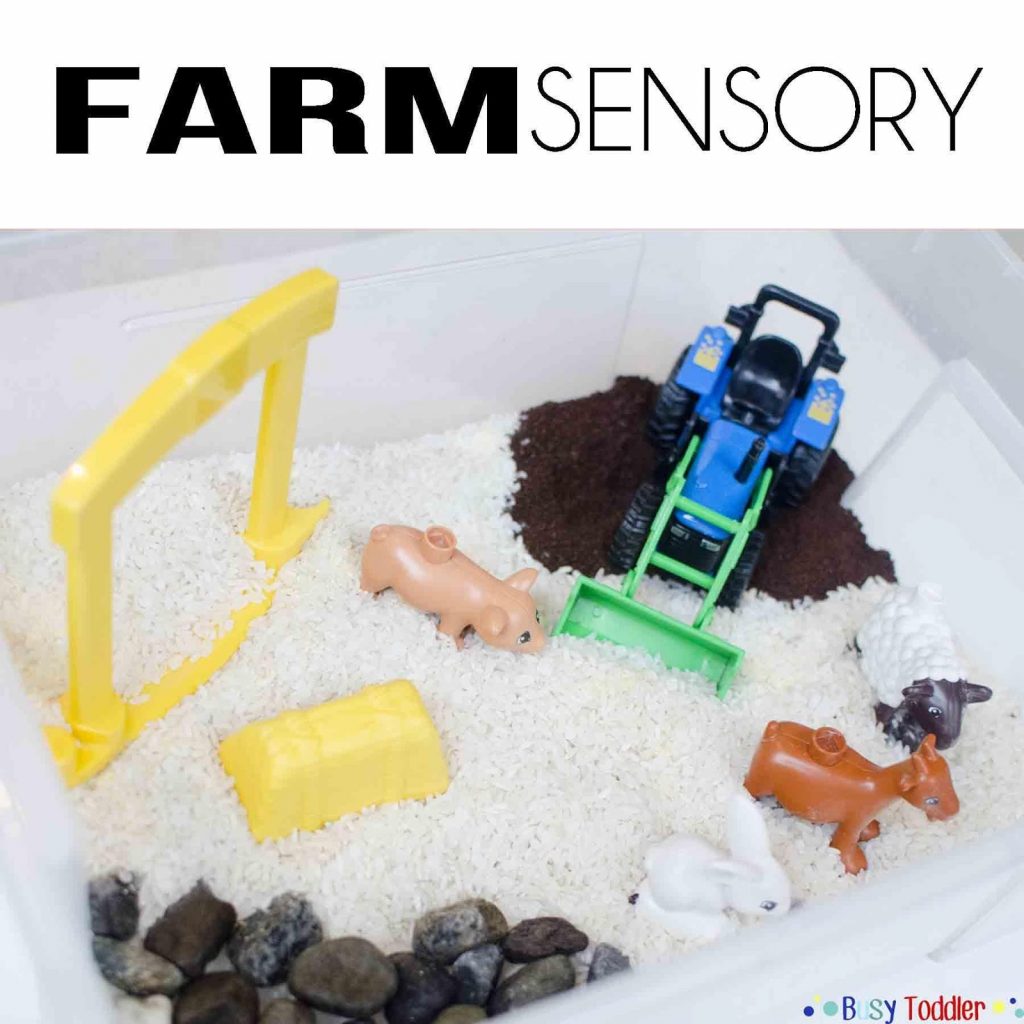 Let's enhance the activity a little bit if you have more than glass jars and plastic cups. Some toys, like animals, trucks, and rocks, could join the bin.
From this perspective, you can make children build a farm, a construction, or a forest. Boost their creativity!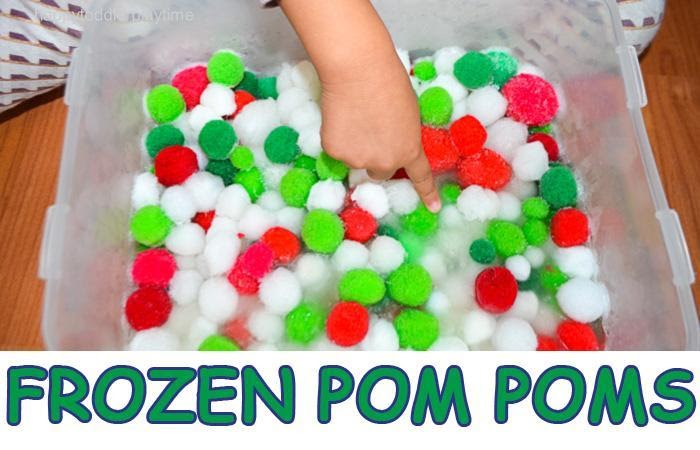 Nobody wants to touch dry and furry pom pom in the middle of summer, even kids. But you can make use of these pompoms by putting them in the freezer.
The new textured pompoms and cold fresh air from them will stimulate children to play for hours. It's a safe way to introduce them to snow and ice, too. We recommend having them outside if you don't want to mop the floor after the game.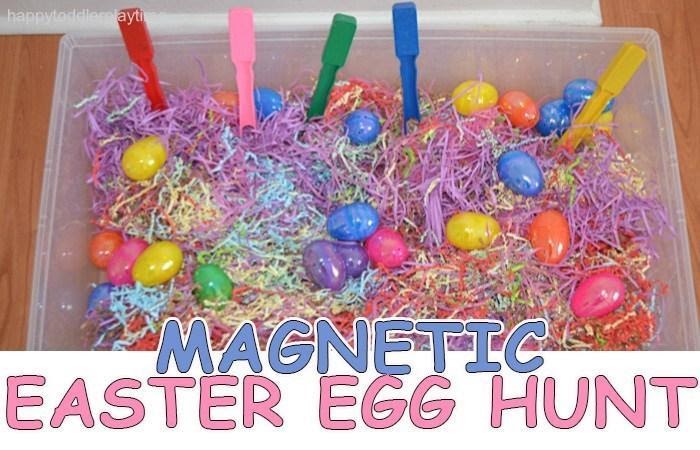 Happy Easter Day is never old with the egg hunt. Toddlers cannot hunt out of the garden in the evening, but they can join the atmosphere with this bin.
You can use plastic eggs or real eggs, depending on how you want to surprise them. We suggest making the base colorful as festive using wrapping paper. Your kids will have a blast with this box!
You can save old caps for sensory bins. For some toddlers, rice or beans are too small that they might swallow in the middle of the game. Therefore, caps are better options, not to mention their colors.
You can organize an easy kitchen activity using caps as ingredients. This activity teaches children how to hold things properly as well as feel a sense of caring.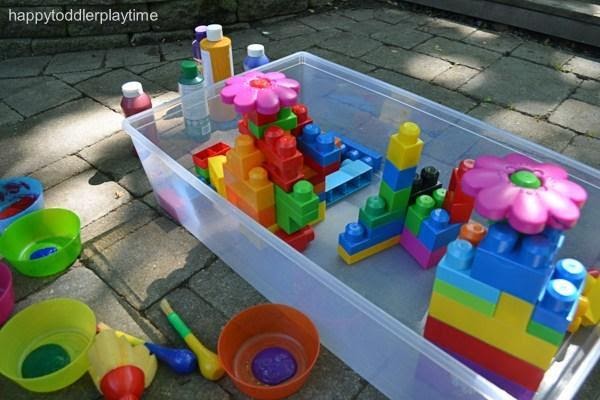 Block zone
Mega Block is just an ordinary lego with an excessive number of pieces. However, children have to learn how to do it in a box and not mess up surroundings.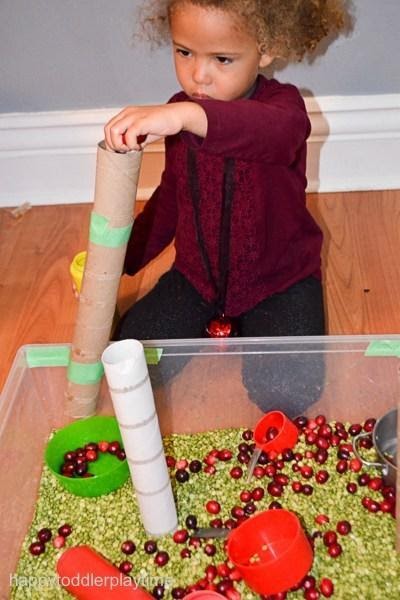 Before or After Christmas, we usually have a lot of accessories that will not go anywhere but the trash can. However, we can make a Christmas tube using these materials.
Children practice motor skills by putting different Christmas items through the tubes, watch them go to the other end, and learn cause-effect. Such an educational holiday!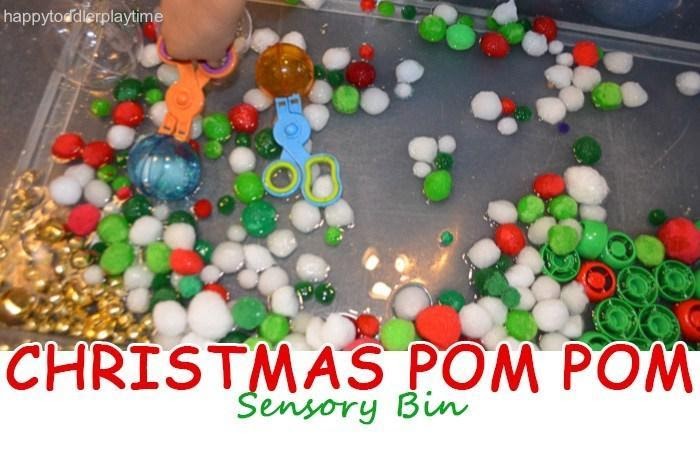 From decorations after Christmas, you can make another bin for kids to practice motor skills. They can grab different shapes and materials, pick items using fingers or tools.
Besides sorting out the mix, kids can play a lot more, in groups or alone. You can add more base into this mix such as powder or liquid to keep children posted with different sustains.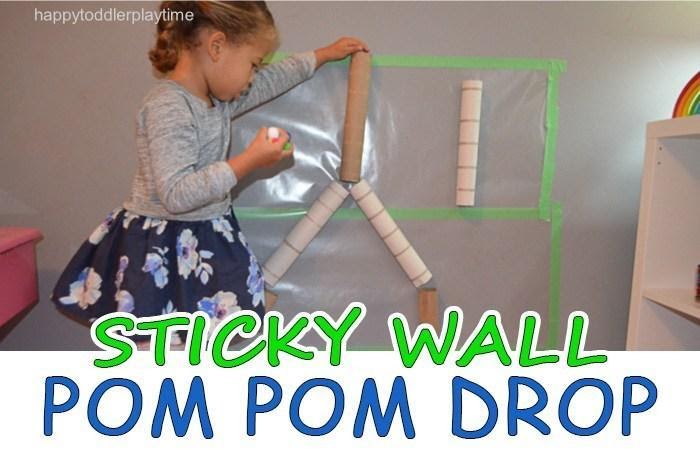 Sensory bins are not necessarily boxes with everything inside. You can expand the playing area more than a box so children can stretch their muscles out a little bit.
These sticky tubes impose another practice for fine motor skills, but children have more to learn this time. The more complicated you make the rave, the more engaging it is.
At this time, what goes inside the tubes could be pompom again. Or anything with the appropriate size.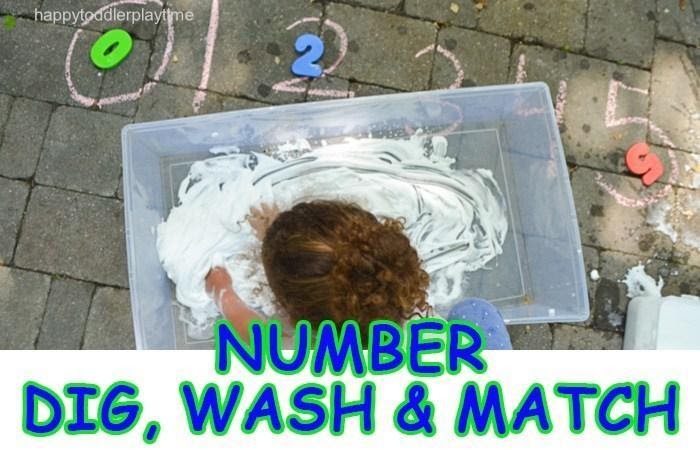 Besides familiar textures like beads and plastic, why not turn the bin into something extraordinary with materials that children have no idea. For example, shaving cream is a safe sustain, to begin with.
It's foamy enough to provoke children to keep their little hands in. Under that foam, you can hide a lot of things, such as numbers. Let's make toddlers count a while because they are having fun with it now!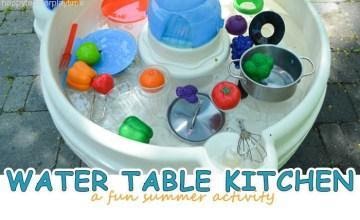 The water table is such a good idea to learn about what floats and what doesn't. As long as you have enough space in the box, children will have a lot of fun chasing stuff on and under the water.
This bowl is such a good idea for a summer day, especially when you are taking care of a group of toddlers at a time. This bin will keep them playing with each other and keep you rested.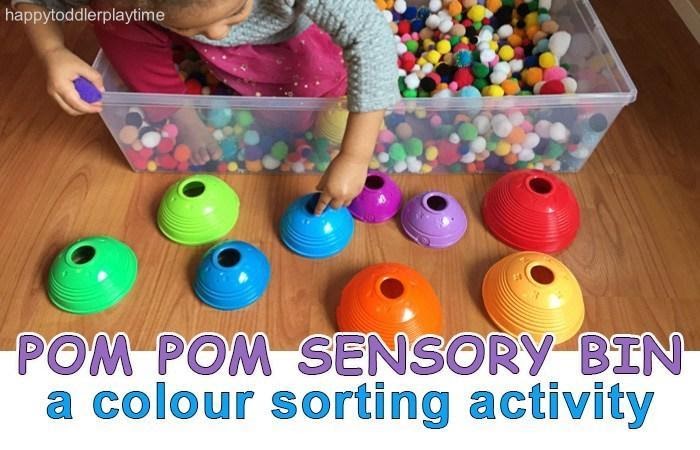 Still pompom for color sorting because of its variety. You have to prepare some tunnels with colors responding to pom pom's collection.
Containers are not indeed to be the same size. However, you can level up the difficulty by proposing small holes. This way, children learn both sorting color and fine motor skills.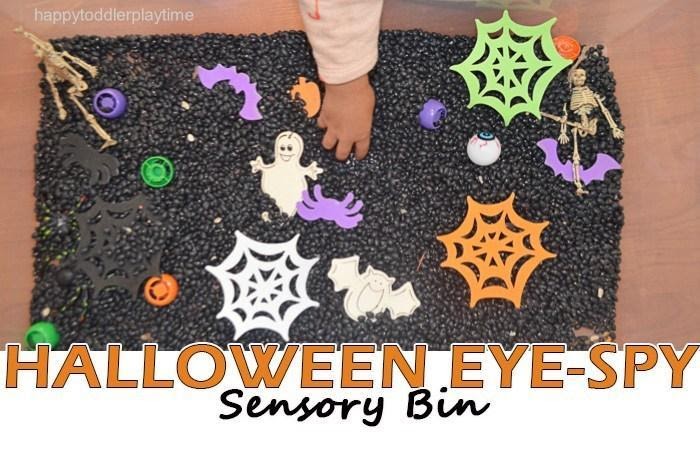 Cosplaying holidays is the best way to keep children engaged with sensory bins. And this idea is promoting Halloween. Which child doesn't love this day?
You can start the treasure hunt now using Halloween-theme toys as well as some handmade decorations. The base could be anything, but better be enough to cover up all sustains.
Using candies from trick or treat will be a brilliant alternative if you don't have toys in the house. This bin can keep children busy digging for the whole day.
When you kids have enough grabbing and scooping, why don't you change to smell? A tea bin sounds excellent. They must have admired you making tea and coffee every morning and raise interest in making them. So, prepare some cups, teapot, and tea bags to make a short training course.
Herb is an excellent start to learn smell because of its healthy and attractive aroma. We recommend using warm instead of boiled due to safety.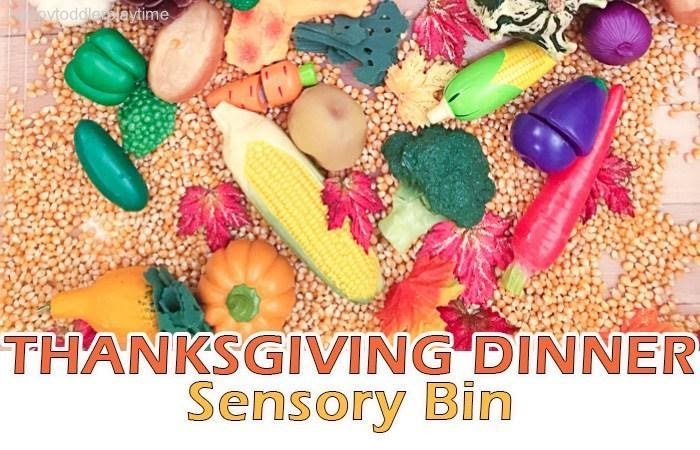 When you have a vibrant set of vegetables, why leave them for just decoration? Kids must learn something from what they have next to looking at and grabbing them.
Sorting vegetables or toys in terms of seasons sound reasonable for a lesson. Toddlers won't get bored because they are having a good view.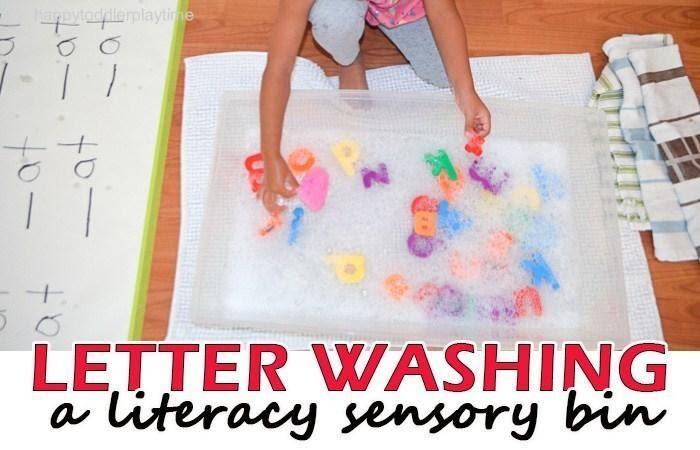 Many activities relating to letters have appeared above, but parents are always the ones who clean up. Let's involve toddlers in the tidy-up by another bin.
Adding some soap and water with used letters makes you a new playground. Children would love to play with these foams and help you to make things right. Don't forget to ask them nicely so that they have fun supporting you.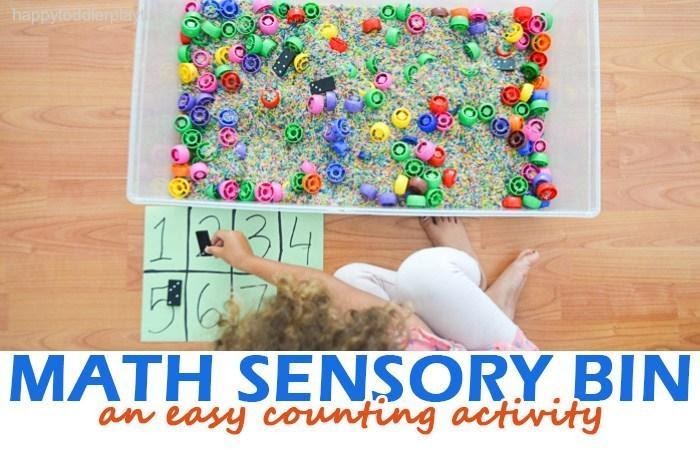 You can mix sensory bins with easy worksheets if you want children to learn while playing. Like this sensory bin, you don't need many things except number sheets and domino cards. Children need to hunt the card corresponding to the number on the sheet. To do so, they need to hand and eye cooperation. Adding base will mess up their vision but require them to concentrate more on the task.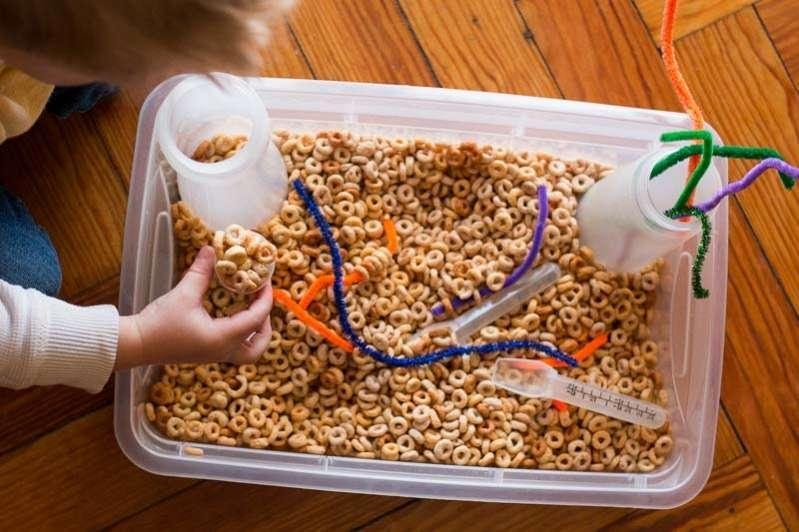 Cereal bin with particles
Cereal is one of the taste-safe sensory bins you need to try once. Using what you have in the kitchen but mix with some large particles, children have to sort them out. Cereal possesses exciting texture, too.
By doing so, they know what they can eat and don't. Later on, they learn that when eating something with strange stuff inside, they must pick them out.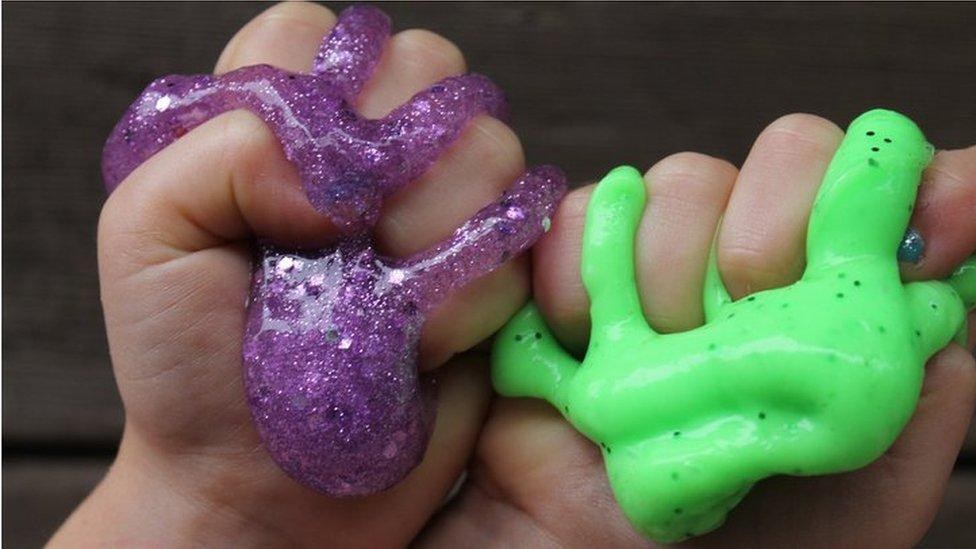 Slime
Slime is so tempting for children because of its varying texture. With a box of slime and they can spend all day grabbing and shaping.
This magic texture will keep children busy for days, not hours. However, you should find edible ingredients to make slime for toddlers since they might like to taste it.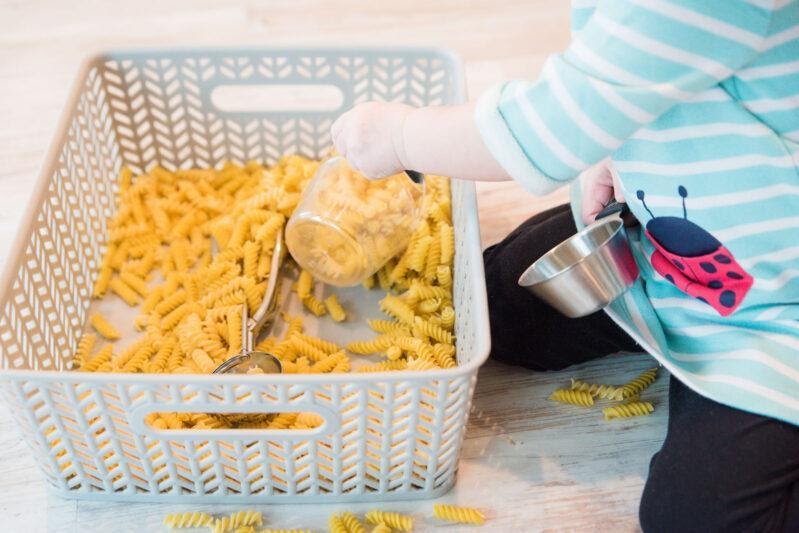 Pasta box
Rice, beans, cereal, and pasta are common materials for taste-safe sensory bins. Pasta is interesting because they come with many shapes, length, and thickness. Even adults hardly know all the pasta texture, children will like to spend time studying them. Children can touch by hands, scoop or measure with other tools.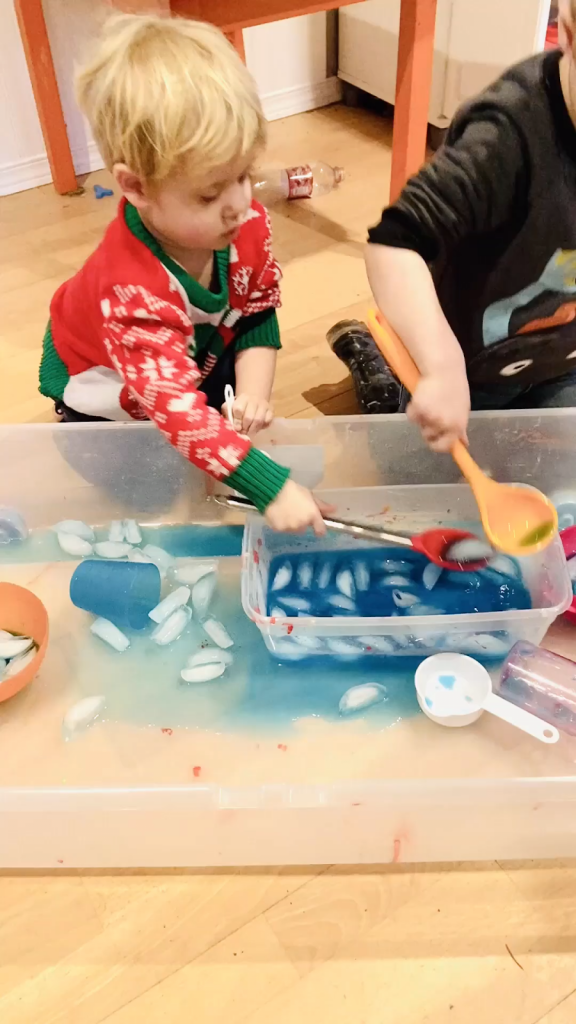 Parents like kids who know how to use a spoon properly. There comes an activity to train them. The plating bin consists of different tools like chopsticks, cups, utensils, pork, soup spoons, and so on, which children use to scoop things. Parents should play with their kids and train them on how to make things work. If you are patient enough, the result will please you.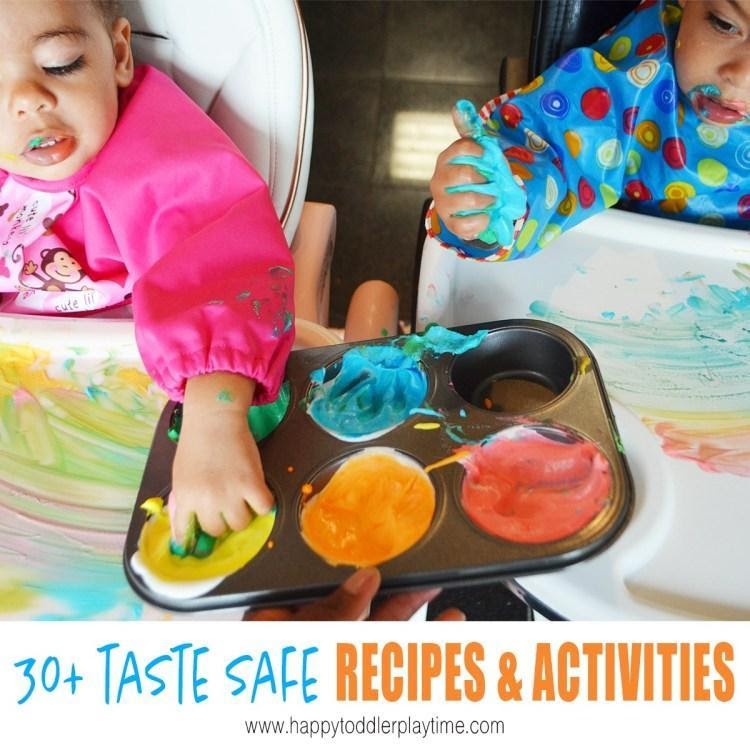 Paint pan
Taste-safe paint takes you time to make, but it's worth your precious hours. Kids will be so color and textures which are thick enough to grab but liquid enough to make a mess. If you don't mind cleaning afterward, this paint pan can keep you free of them for hours.
Also, having different colors in hand surely enhances their recognition or even knowledge of mixing colors.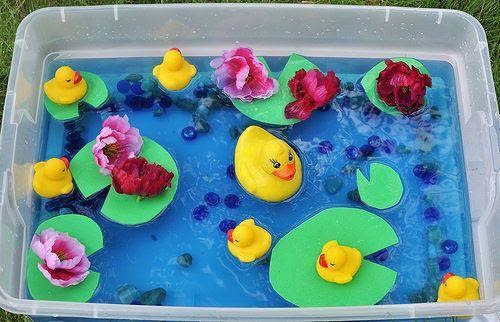 Children love things that look cute and make sounds. That's why many children are into these yellow rubber ducklings. You can put them in water, decorate with something or just some soap. Then, children will not go anywhere but that small pool.
Squeezing duckling is a good motor skill practice that you should try with small toddlers. Not only duckling but anything your children fancy can alter.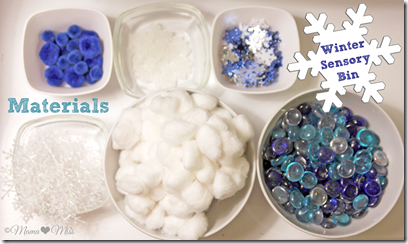 Winter sensory bin cannot miss out on the snow. It's such a free thing you never thought of using but amazingly works.
You can have them develop their sense by touching the snow, building a snowman, or alike. However, it's an excellent time to teach them a vocabulary for winter such as snowflakes, coldness, crystals, ice, and so on.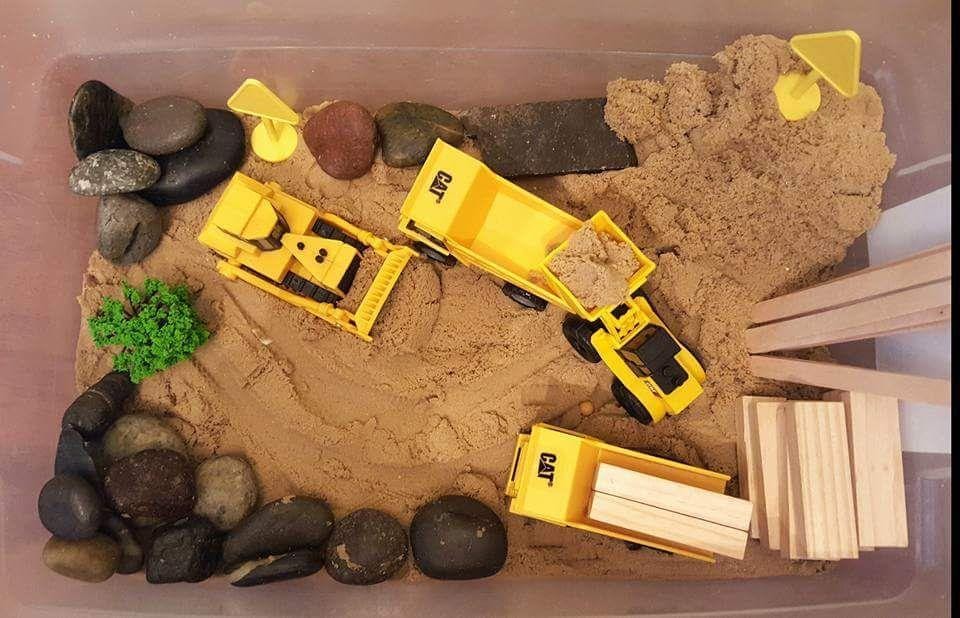 Construction bin
When you want to create a concrete theme for sensory bins, why not a construction site as it contains sand and rocks that you can find easily on the street. Adding some toy trucks and wooden bars, you have a beautiful place for children to hang out for hours.
Tell them not to stop with playing around but encourage children to relocate, develop this site as they want.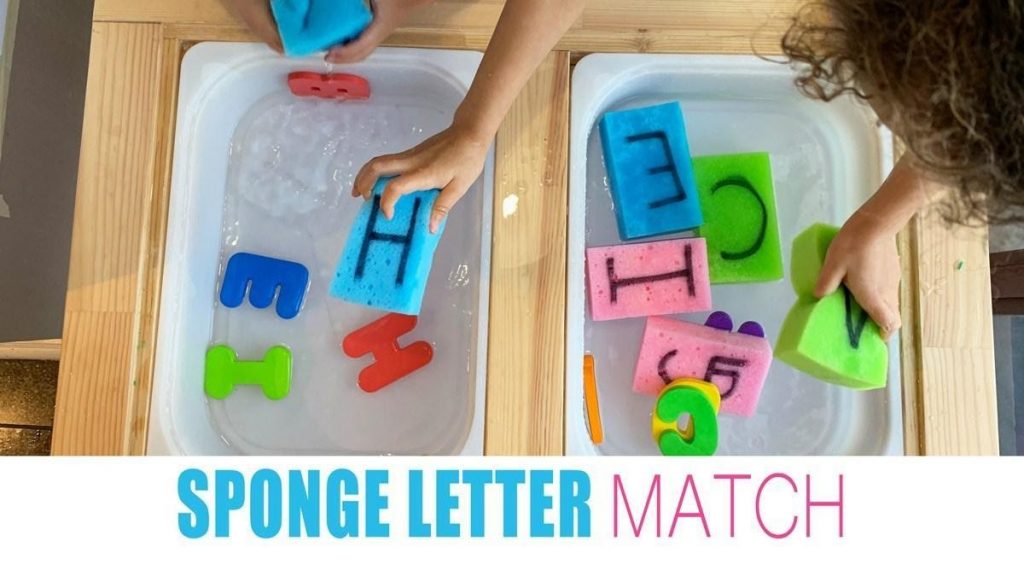 Sponge Letters
If you don't have plastic letters but want to teach your kids the alphabet in a funny way, use a sponge.
You can write on the sponges, add some liquid or texture like soap to make touching more simulative. This bin is an exercise that children would love to stick around.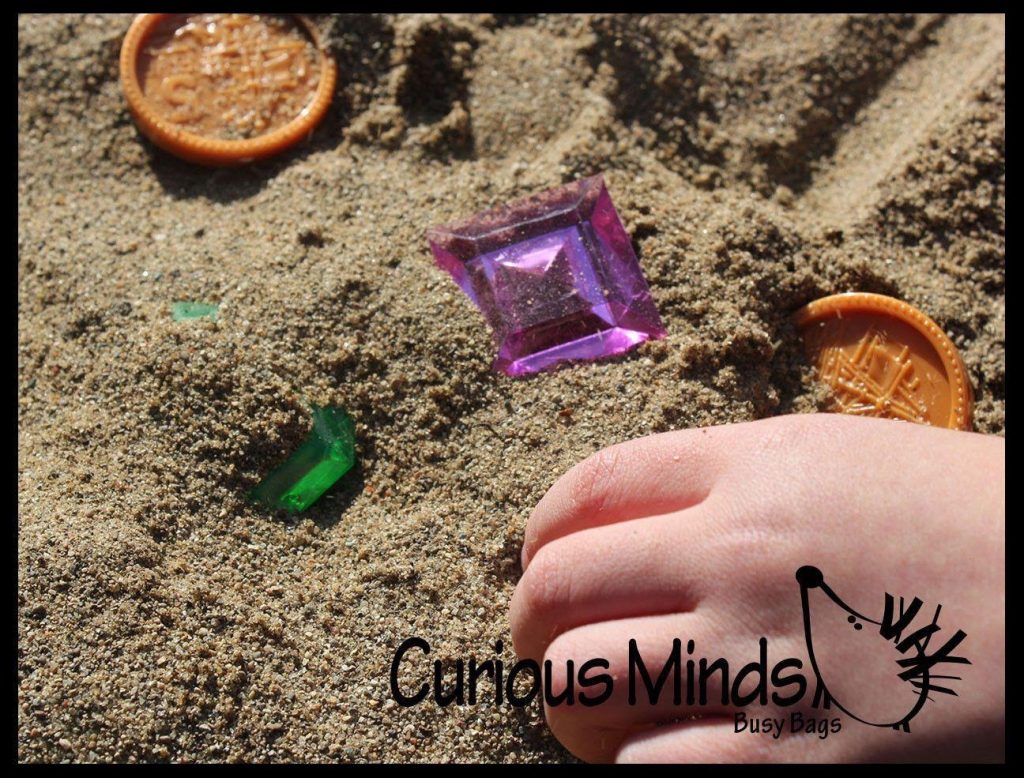 Gems in sand
Parents can bury crystal-cleared gems, coins, and jewels under the sand to make the bin more tempting to children. As these random jewels are not specific in numbers, searchers never know which their last find-out is but continue digging in the base.
Sand is our recommendation to keep things seem more realistic as well as a chance for kids to touch sand under our watch. It's better if you rinse sand through water before washing all muddy away. However, you can change into any other substitute such as rice, kernel powder, or bins.
Rescue Easter Eggs
Last time we had a lot of fun with the Easter Eggs hunt, but this time, it could be better with shaving cream.
As mentioned, the foamy texture will keep children engaged with the searching game for longer. However, we don't hunt this time since we usually do not have so much shaved scream. What we ask children to do is rescue eggs from the cream, as many as possible. They would thank you for letting them touch that shaving foam that long.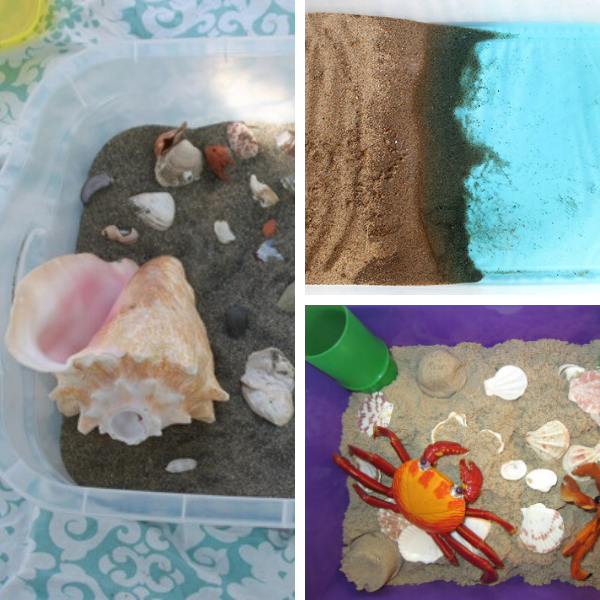 Some ideas for a sandy beach sensory bin
We can brainstorm with sand quite a lot. For example, sand from the last construction site could turn into this little beach.
It's easy to teach children how to be on the beach with some accessories like sand, some oyster covers, salted water, and other handmade models. Children can build one for them from available sustains.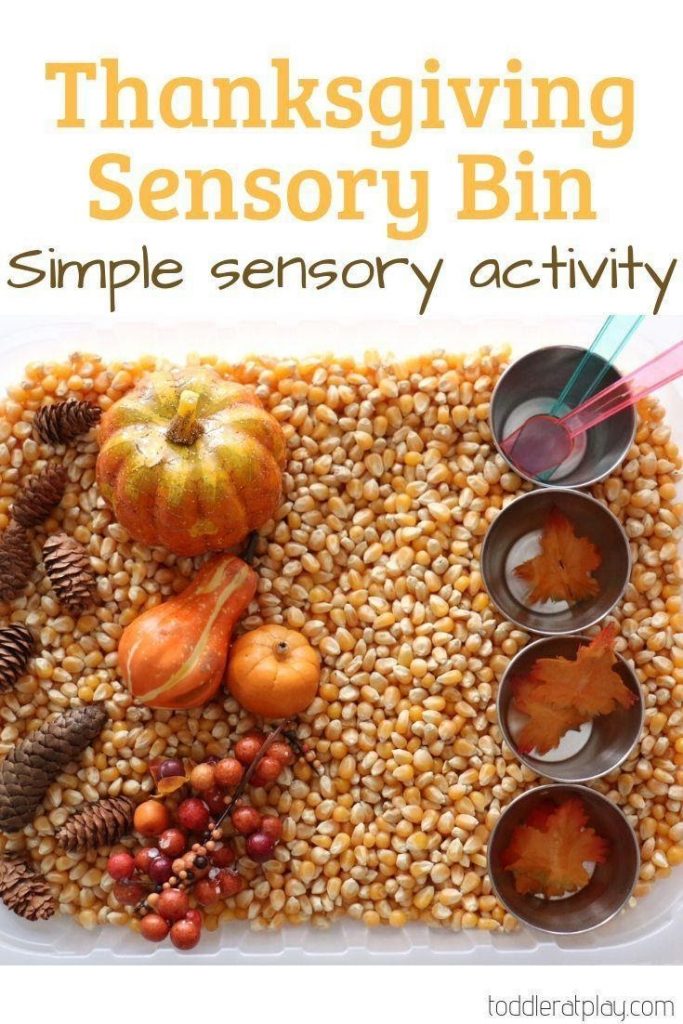 A Thanksgiving bin
It's never easier to introduce seasons and holidays to toddlers than using sensory bins. It's not a random box that you throw anything in but a carefully arranged collection that responds to a theme.
By this idea, you can keep the bin change every month, or day according to changes in climate, plants, vegetables or flowers. You can use whatever presents the theme for you, fresh or plastic models.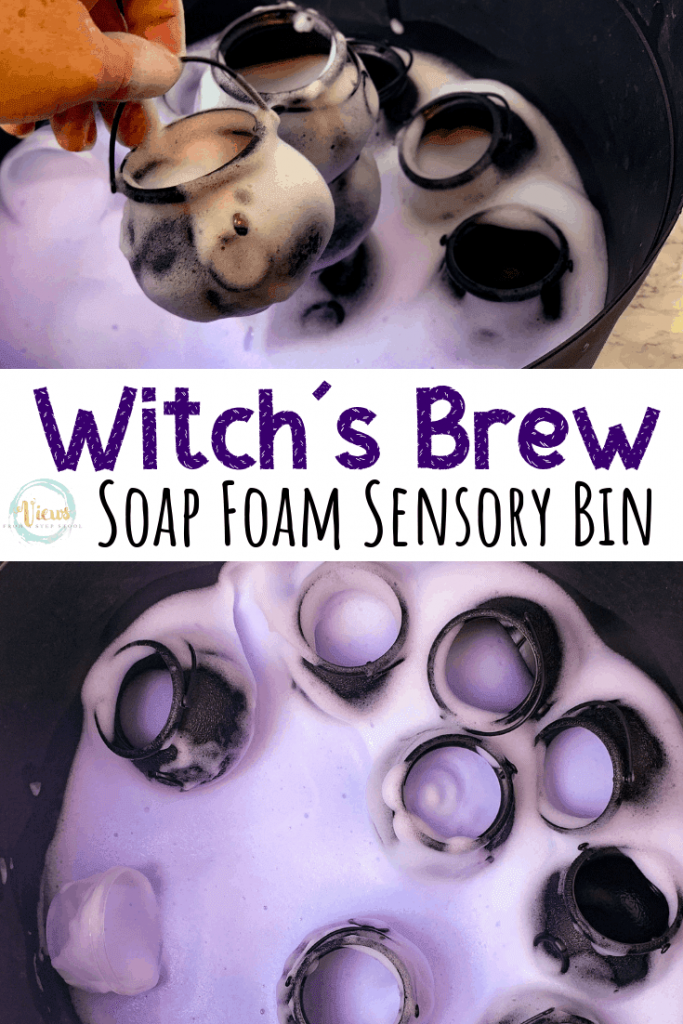 Witch's brew
The foamy texture from soap is an idea to make sensory bins. On Halloween, it's surreal to bring out fairy items like witch's brew from the book. You must have never thought of how easy it is to make such a thing.
You don't need to have any lessons behind this bin as it's meant to have fun in the festive time. To extend the engaging time, more things like spiders, skeletons, and pumpkins can join the arsenal.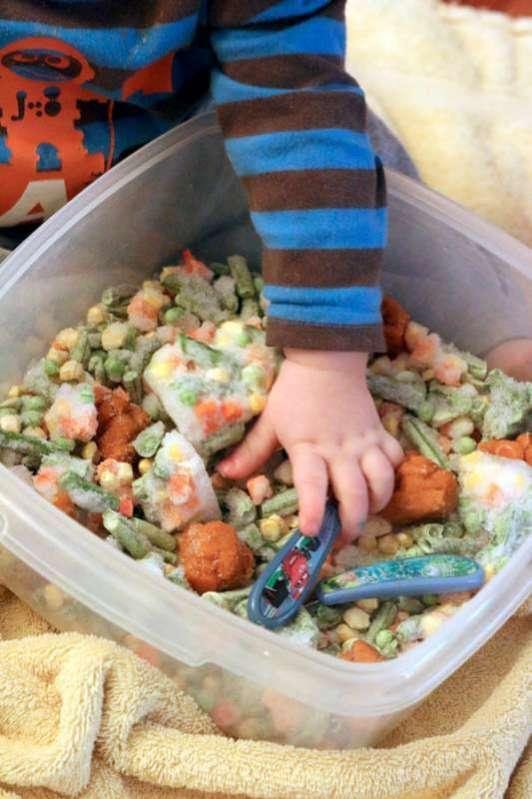 Frozen Veggies
Let's come back with educational sensory bins, and this time, we'll learn about vegetables for real.
Usually, we throw away expired frozen veggie mix but this time, let kids mess up them first. It's hard to tell them which one, but they can see different kinds by sorting the color, shapes, and size.
Or, it's just fun for them to touch frozen things. You might want to prepare a spoon in case they hurt their hands with coldness.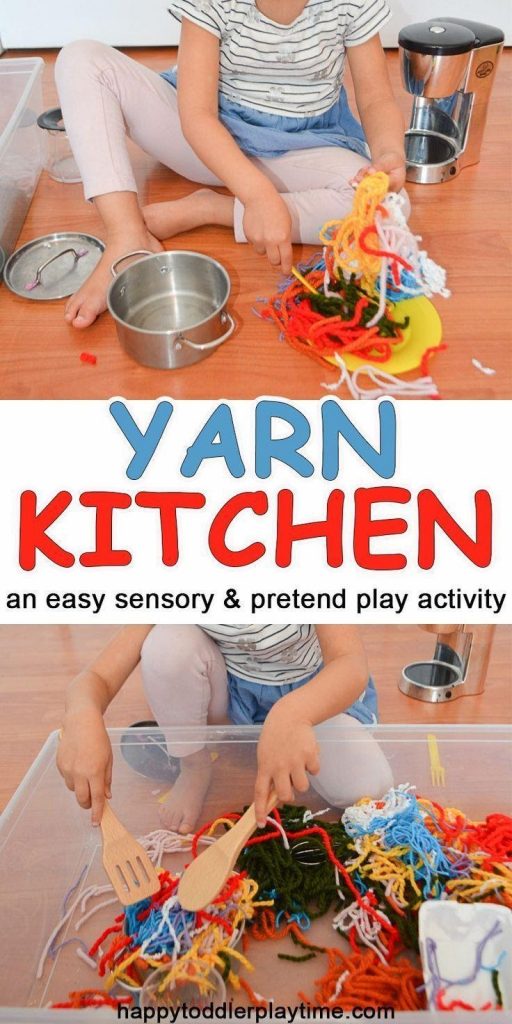 Spaghetti yarns
Like pom pom, yarn is used a lot in sensory bins, thanks for the variety in color and sizes. However, they have less application, which mostly pretends noodles.
Yarn kitchen is an idea to help a toddler learn using a fork and spoon to take spaghetti. It's not 100% correct, but it's a good practice for them considering motor skills.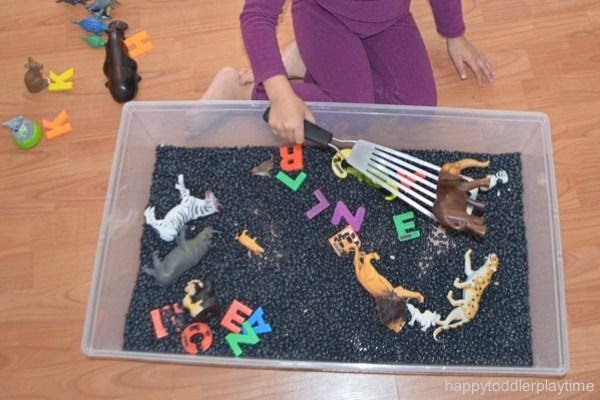 Animals and letters
It's still alphabetical lessons, but this time we have animals beside to help. You can quickly get a pack of plastic animals as well as another one for letters. We recommend these activities for toddlers who have some sense of letters already.
You make them match an animal with their name's first letter. It's not an easy job, so if your kids want to win, he must cooperate imagination and hand into matching. As a result, they develop concentration through working on such activities.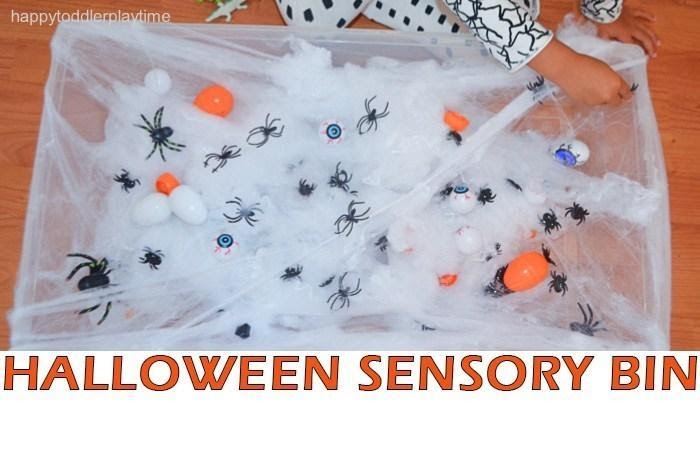 Cotton stretch as spider web
This time, children don't encounter covered items anymore but a considerable web. They see the things, but how to get it out? It must be interesting to get in contact with such a thing looking like a spider web.
This sensory bin looks like a promising Halloween warm-up game for kids.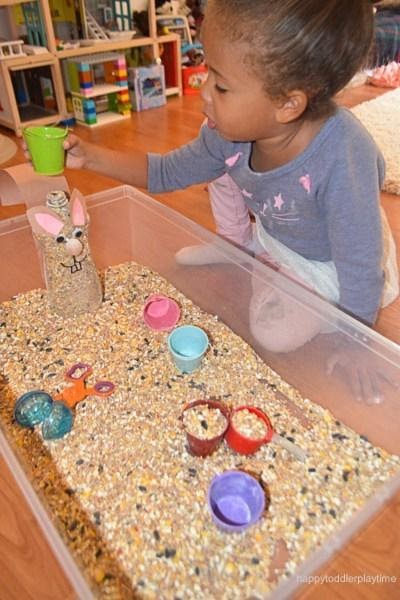 Pretend squirrel
You don't have to possess a real animal to teach children how to take care of them. First lessons could be as easy as feeding a plastic squirrel with a lot of bird foods.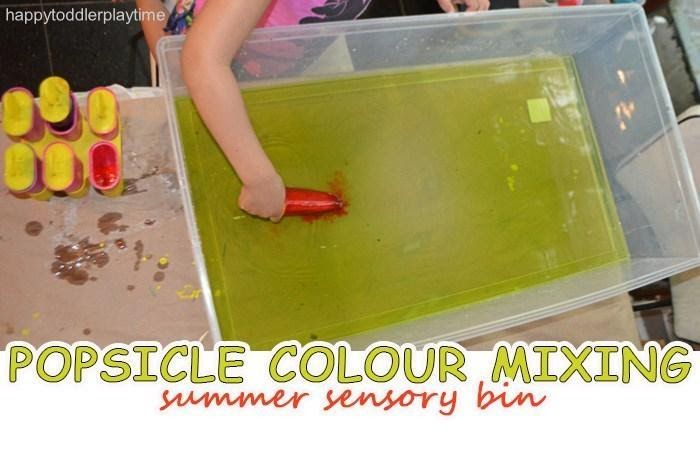 Looking the color infusing from popsicles
Not a mixing game anymore, but this activity with colors imposes particular charms. Children will learn how the color pops work when infusing them into water. The popsicles could be frozen coke in different colors or hand-made ice pops.
Conclusions
Parents can develop bins from anything in the house. The most important thing is a big box where to fill in with interchangeable sustains. There is always something learned after a game if children commit enough time, sensory bins ideas for toddlers is one of methods.