Don't have any ideas for frog craft activities for kids? Click and read this article to find out the great list!
Many children enjoy doing craft activities at school and home. In particular, they like to make animal crafts and projects. Frog craft activities for kids will be an excellent idea for teachers and parents in educating the little ones. They are definitely delighted when seeing and playing with the frog craft.
If you still do not have any clue about making frog crafts, you should consult the list in this article. The ideas in this list are easy to prepare and carry out. Don't hesitate to play with children in doing some frog crafts right now!
Why Should You Craft With Children?
Children at nursery and primary school over the world do so much of crafts. The experts say that this activity is essential for the development of children aged 3 to 8 years old. Therefore, it would help if children can practice crafting regularly.
Are you curious about the benefits of craft activities? Let's have a quick look at the following part!
1. Developing Motor Skills
When doing the craft, children have to use their fingers actively and use both hands simultaneously. From that, they develop fine motor skills and bilateral coordination skills. These skills allow children to do everything on their own without assistance from parents.
2. Developing Creativity
Crafting occasionally requires children to use their imagination. For example, you can leave children to whatever they like. They absolutely can come up with some unidentifiable shape or image. But if you ask them, you will receive answers that make you surprised at their imagination and creativity.
3. Improving Problem-Solving Skills
For some older children, you can challenge them by showing some craft photos. Then, ask them to choose their most favorite photo and recreate it. Besides, you can encourage them to use some alternatives if they cannot find the necessary items.
Taking part in this activity, children have to observe the photos carefully. After that, they need to think about the materials they can use, making them think outside the box.
4. Learning Social And Teamwork Skills
Kids might want to do a craft with their friends, or you can group them to do it together. They will get much more fun. When working together like that, children are more likely to improve their teamwork and social skills.
Indeed, they have to communicate and co-operate to accomplish the projects. Educating them on these soft skills when they are young will benefit them in their life later on.
5. Enhancing Self-Esteem
Completing projects can give kids a sense of achievement. Every child loves to see their works, helping them to build up more confidence. Besides, during the time of crafting, they have to wait for glue and paint to dry. This allows them to develop their patience and self-regulation skills.
6. Learning A Language
Crafts do cover four language skills, including speaking, listening, reading, and understanding. More specifically, when kids make crafts, they have to talk to their friends, which boosts their communication skills.
Furthermore, they can learn new vocabulary from instructors such as parents, teachers, or friends. Once they do what the instructor says, they are using their listening skills. This seems to be an important skill that all parents want their children to develop as soon as they can.
Frog Craft Activities For Kids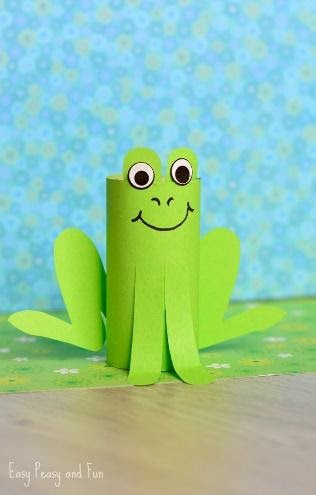 Instead of throwing the paper rolls away, you can keep them to make some frogs with your kids. The materials you need for this activity are glue, paper roll, scissors, green construction paper, pen, and googly eyes.
Most children like to do and play with the jumping frog. They even use the jumping frogs to compete to determine whose frog can jump the farthest. So, this idea is an incredible origami pattern for kids and beginners. You can use different colors to fold your frogs.
To do this craft, you can buy an Origami package. This package includes an available square sheet of paper. So, you just need to fold without cutting. Also, prepare a pen to draw eyes and decoration for your frogs.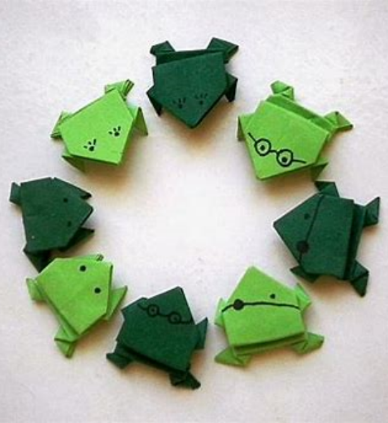 Jumping frogs are popular toys for kids. You can organize a race for frogs by using the chalk to draw a track and invite your kids to jump their frogs. Another idea can be pond jump. You draw some different sizes of circles and set some rules for the game. Kids will be cheerful to participate in.
If you are not interested in these above ideas, you can try the obstacle jump. In this mini game, you can guide kids to make some obstacles from straws or cardboard. Then, hold the frogs' race. The jumping frog has to jump over the obstacle one by one until the last.
The heart frog craft is immensely easy to make as you just need to cut paper hearts and glue them together. So, you need to prepare green, white, red construction papers, glue, scissors, and a pen.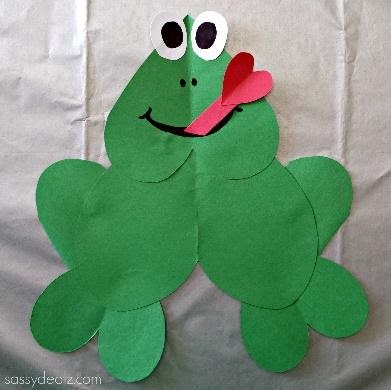 With this exceptionally easy craft, small kids and parents can bond together well. Through this craft, children can have fun while parents can know how fast their children grow up. The materials for this activity are simple. You just need a pen, scissors, glitter, green, and white construction paper.
Let your children place both their hands onto the green paper and use a pen to draw their handprints. Then, you can help them to cut it out if your kids are too small. A 2-year-old kid cannot cut it as it quite hard for them.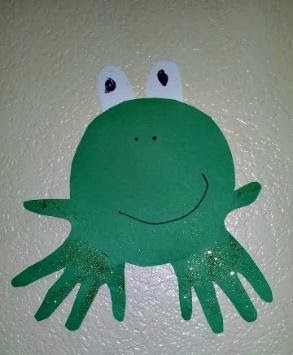 You can encourage your children to do some colorful frogs by themselves and tape it to the fridge. How about doing a frog family to decorate their desk or their notice board in their rooms?
The Hungry Frog is not only a craft activity but also a learning game. With this activity, your children can learn math, sight words, and the alphabet. Sounds interesting? Let's come to do it now!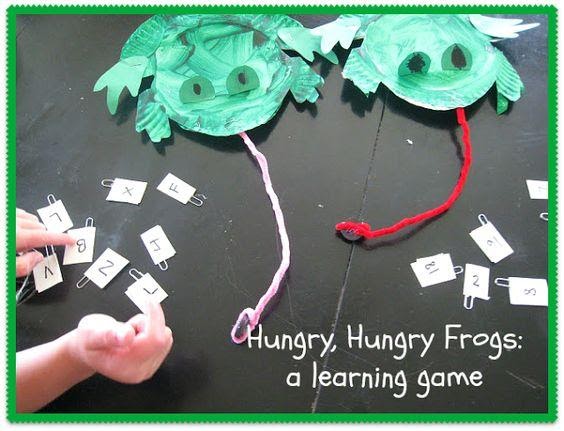 This activity is relatively suitable for pre-schoolers. The name might sound complicated, but it indeed attaches with templates. So, you can print the templates and give them to children to follow.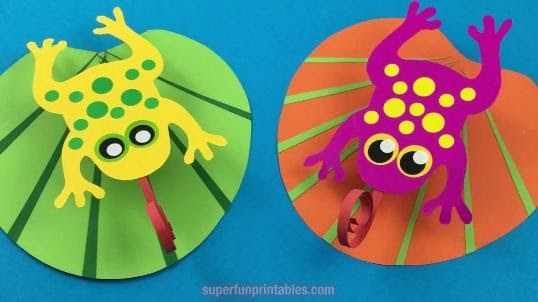 It is recommended to print the template onto coloured construction paper. Therefore, children can cut out many colorful lily pads and frogs. It would be best if you encouraged children to decorate their frogs and the lily pads so that they can be more vivid. Give them some coloured pencils or crayons.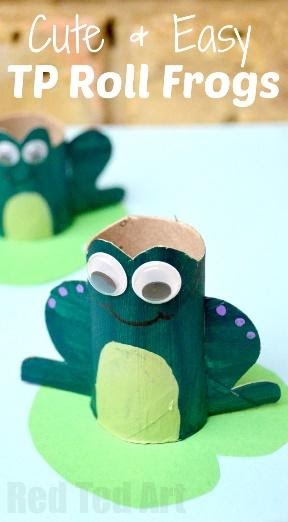 This is another fantastic idea from a paper roll. This material seems to be versatile to make a craft for kids. Apart from the frog, you can use toilet paper rolls to create other cute animals or objects. So, do not waste the rolls as they allow you to do many useful things.
Frog crafting is a popular activity, especially with children. Activities such as: funny orange frogs, drawing frogs, and folding paper into a frog shape are fun activities for children to play while learning. If you are looking for a novel crafting idea for your child, you can try making this paper-roll frog cup!
To do this manual job, you need to prepare the following tools:
The letter F is cut from green paper. Because the letter F is the first letter of the word "Frog."
The frog's legs are cut from blue paper
A circle (green or any color)
Two white circles for the frog's eyes
Two small, black circles serve as the pupils of the eyes
One red thread
Glue
black paint
12 x 12-inch white paper
School glue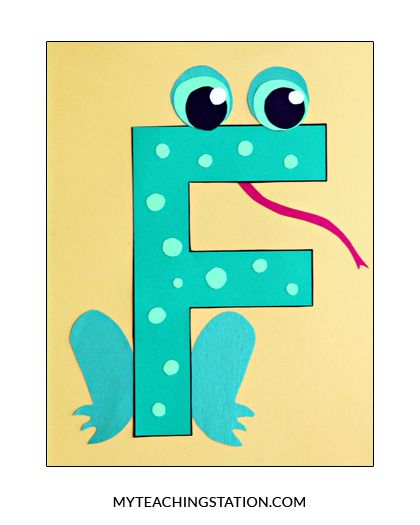 After you have prepared all the necessary tools, you can start working immediately. The steps are also quite simple, so you do not have to worry.
Children tend to love discovering new things. The frog's life cycle is one of the most curious things that many children are curious about.
If you have a fish pond right behind, this will be an excellent opportunity for your child to learn about frogs' growth process. A small net to hunt frogs will make children too excited (of course, they will release frogs to the pond after observing).
But you can use a frog lifecycle printing kit so that your child can better visualize this animal. This print kit serves as an aid to better understanding frogs. You will have to prepare a printout of about two pages. They act as memory cards.
Be careful numbering each stage of the frog's development. At each stage, there will be funny pictures of frogs and short descriptions. After your child has memorized the frog development stages, you can present your child with some challenges, such as sequencing. It will help your child remember more deeply about the frog's life cycle.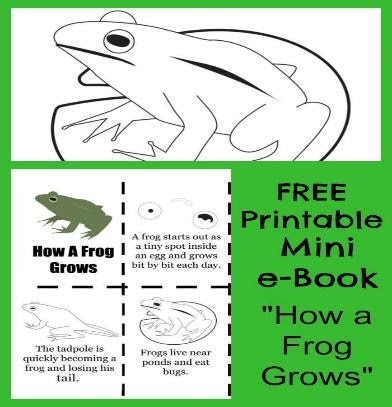 Children love to eat sweets, especially biscuits! Indeed, the chocolate-coated Oreo cookie will make the child too excited. If it has a funny frog shape again, your child will not be able to take his eyes off. Do not worry. The recipe for this Oreo Frogs cookie is straightforward. You and your kids can make it together.
Great if you could spend an afternoon in the kitchen and baking with your kids. The way to make Oreo Frogs is also quite simple and suitable for children. Young children can mix ingredients. The older kids will help you bake cookies or dip cookies in molten chocolate.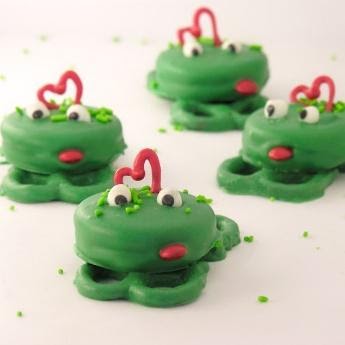 Fresh grass collage
The grass is the perfect refuge and hiding place for many animals. Take the green paper and cut some grass to allow the frog to live in it.
Cut the sticker of the green frog
Why don't you let your child make some green frog sticker stickers? Place a cutting board or green cloth on the table to make up the photo.
Use green color to draw a picture of a frog.
Usually, children draw or paint empty pictures every day. Instead, have your child paint a cute picture of a frog green.
Children can also paint some green on the drawing paper, making the frog in some other color such as white or yellow.
Green container
Find and place green items in a container.
Frog handprints
First, press two fingerprints on a sheet of paper. Cut out the two fingerprints together with a circle from the green cardboard. Use white paper and cut the eyes. Don't forget to make the frog's long tongue out of pink paper. To curl the tongue, twist it around a pencil and stick it in.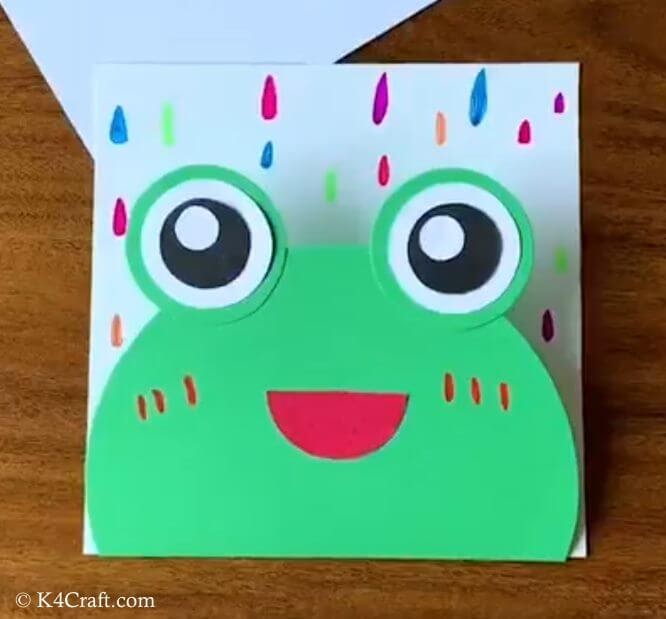 There are many ways to fold an Origami frog. You can see one in the previous idea. This is another simple guide that will help your child fold the origami frog quickly.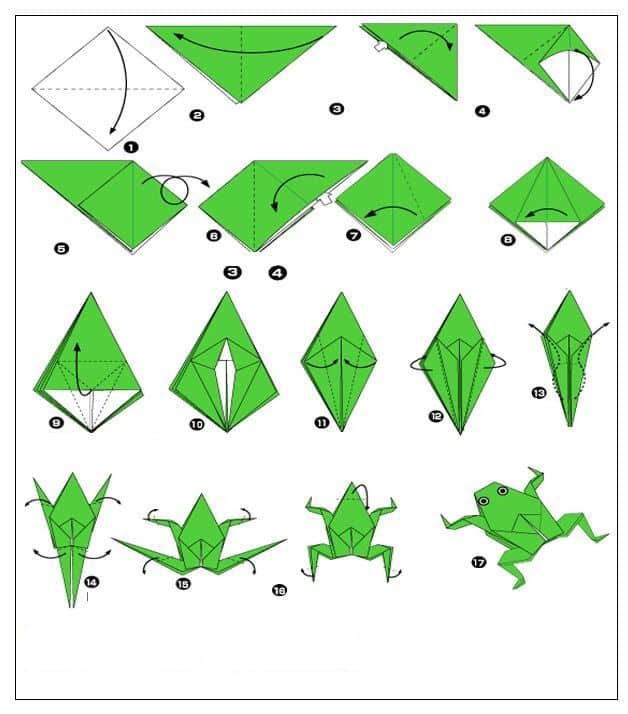 Some games your child can play with Origami Frogs:
Use straws, cardboard, or tree branches to create barriers for the origami frogs. Let's start the race! The frog that can overcome the obstacle fastest will win.
The race between origami frogs:
Use chalk to draw running lines. Then let the children compete with each other with their frogs.
Which frog will jump farthest?
Measure the jumping distance of the paper frogs.
Draw a big circle, and inside is the target. Place the frogs outside the circle. Compete to see which one will jump on the target in the center of the circle. The closer you get to the center, the higher your score will be!
The game is also based on circles of different sizes. The game will start in the first circle. The child must help the frog jump to the next round. If the frog hits this circle, it will go to the next game. But if you do not hit, the child will have to jump back from the first round and seek luck.
Many studies have shown that puppets can provide various benefits and cognitive enhancement for preschool and primary school children. Funny means will be a great communication tool. The super cute frog puppets will bring hours of fun for children.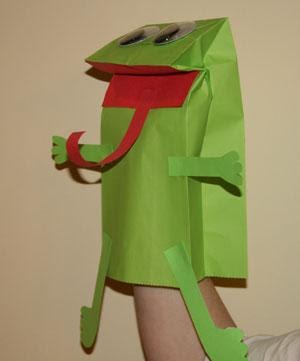 The frog masks will make your child's playtime more fun than ever. They will jump around the room like a naughty frog.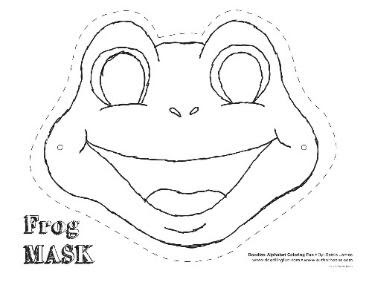 Parents and preschool teachers often look for ideas for a frog event in April because April is the National Frog's Month. Examples include frog crafts or frog dishes.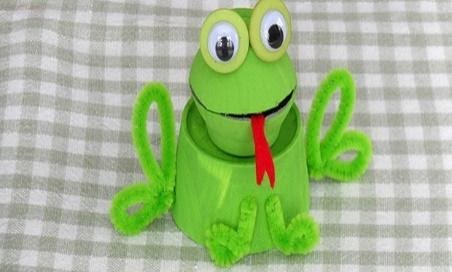 The excess empty egg cans in your home will become essential to create an excellent frog craft for your child. Along with start work on it!
Another idea related to the frog that you can make with your kids is the stick puppet. To make the stick puppet, you will need some green cupcake liners, a tongue depressor, a tape runner, scissors, white cardstock, black marker, and a creative station.
Apart from frog, you can also adapt this method to other animals your kids like. Most children certainly love this idea, as the stick puppets are adorable.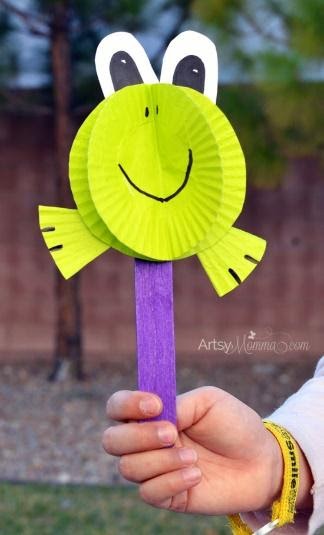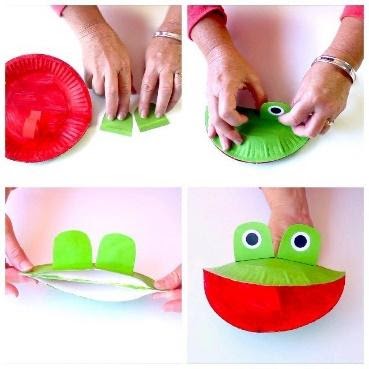 Making frogs from paper plates is super easy for kids to have fun and do the craft. As the kids' hands are so small, you should choose the smallest sized plates. Therefore, your kids can make their frogs' mouths to open fully. If you want the frog to be more lively, you can add a long curling paper as the tongue.
Several parents tried to do this project with their kids, and they gave many good feedbacks. Their children very like the paper plate masks. These masks do not cover their entire face, making them feel more comfortable. The kids can easily see and talk when wearing frog masks.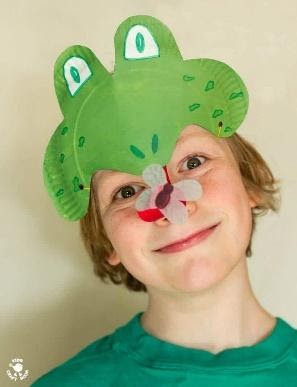 The paper plate frog masks are also appropriate for children wearing glasses. The masks do not get in the glasses. It will be an excellent way to make use of the redundant paper plates after the party, for example.
It is another idea about catching a fly in the mouth of the frog. But this idea is made with construction paper, not a paper plate. This fly catching frog is a type of hand puppet. The supplies you need to craft are red yarn, cardstocks (red, green, black), glue, scissors, printable frog template.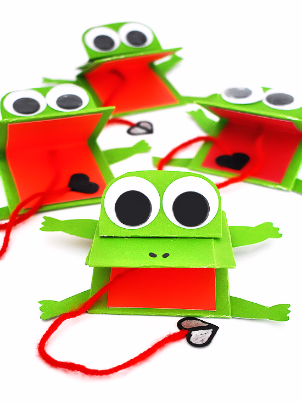 The frog can hop and jump everywhere, making children delighted each time they see a frog. With this idea, you will make a frog with a moving tongue by using the paper plate. This craft activity is easy for preschoolers to do at school, home, or art classes. All materials you need are paper plates with necessary craft supplies.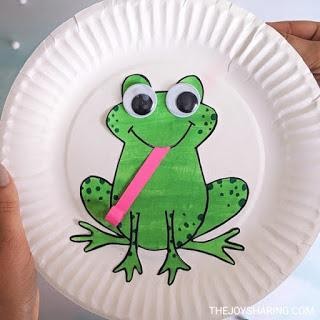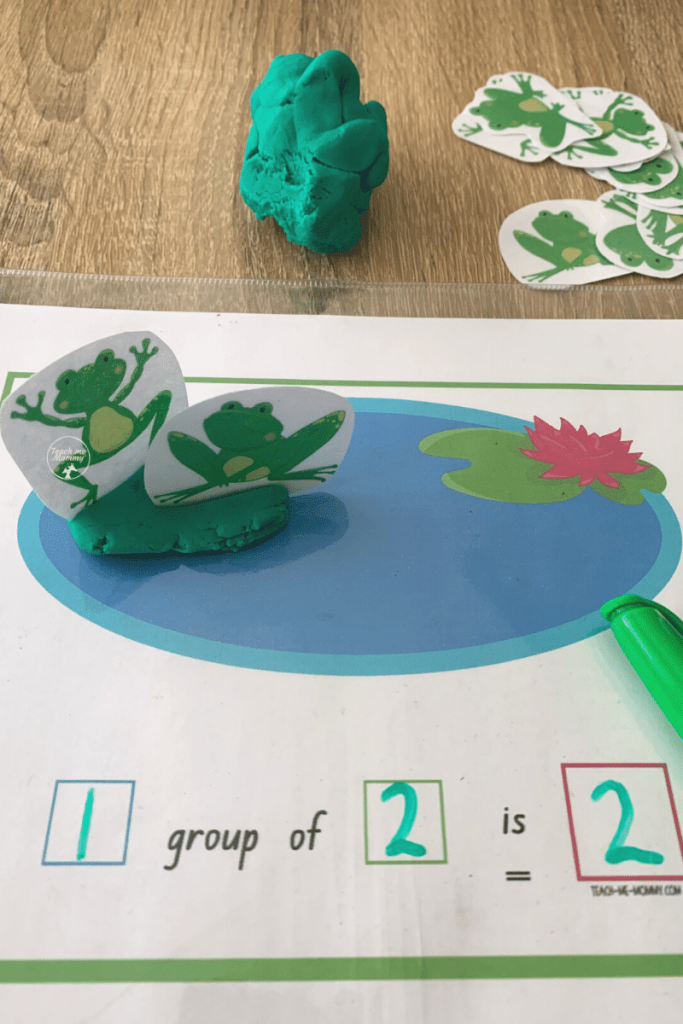 If your kids are coping with the concept of "groups of", this activity will be useful to teach them hands-on. When learning math, the best way is to use visualization. Why don't you use the groups of frogs to help them? It will be incredibly fun! Your kids can physically count out the frogs and put them into the ponds.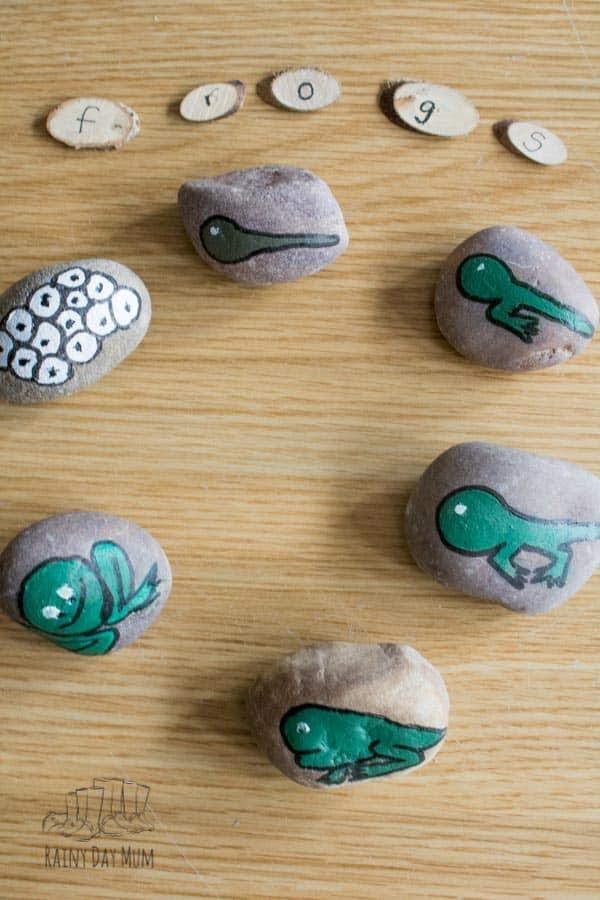 With this activity, your kids can collect some stones to paint. These painted stones can be used to teach them the life cycle of a frog. Children can enjoy drawing, painting on stones, and reusing them repeatedly to retell the story of the frog life cycle.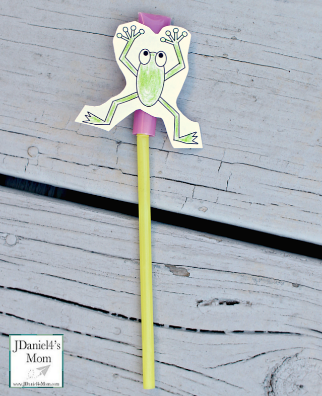 This is the leap frog straw rocket that can give your kids a great time to decorate, color, and construct. Also, the kids can compete to find out who can make the frog travel the farthest. To make things easy, you can print the frog from the available template.
You can make the paper frogs jump by blowing up and rubbing a balloon on your hair or jumper. When you rub the balloon, it is charged with static electricity attracting the frogs. That is why they can jump. And indeed, you should make some paper frogs on your own or print them out and paint.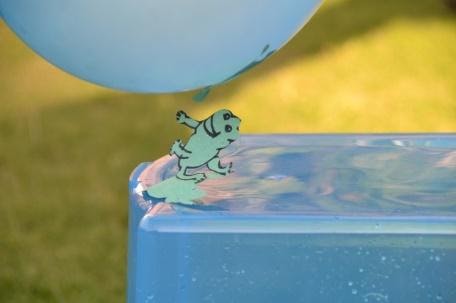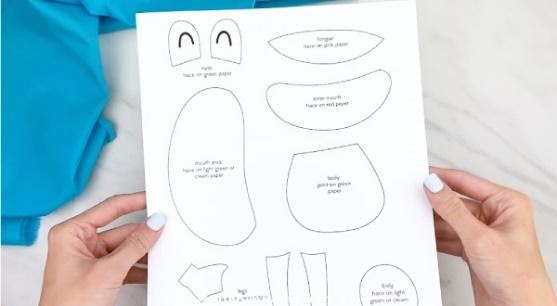 This craft is not difficult to make as it has a free and available template. So, you just let your kids color the paper, cut them, and get crafting.
The croaking frog craft is suitable for some older children. To craft this project, you need masking tape, two button jar lids, a glue gun, acrylic paint, wooden craft spoons, and googly eyes.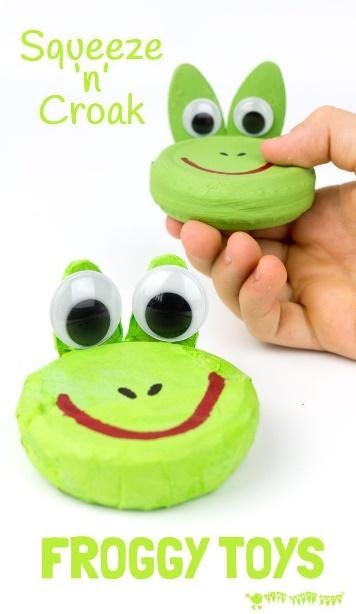 How about turning a clay pot into a cute frog? Then, you can use it indoors to decorate or for your porch. This activity might be a little bit difficult for young children, so you should help them with more steps.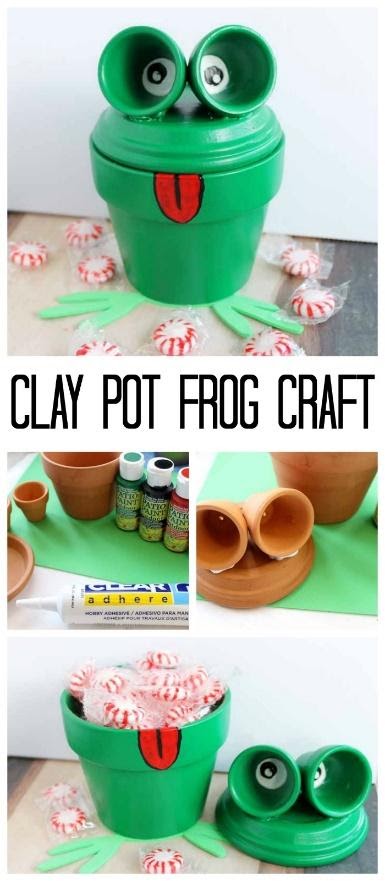 Apart from making a puppet, you can use paper to make some cute and easy frog bags. This project is also easy for your kids to make bags on their own and put what they want inside.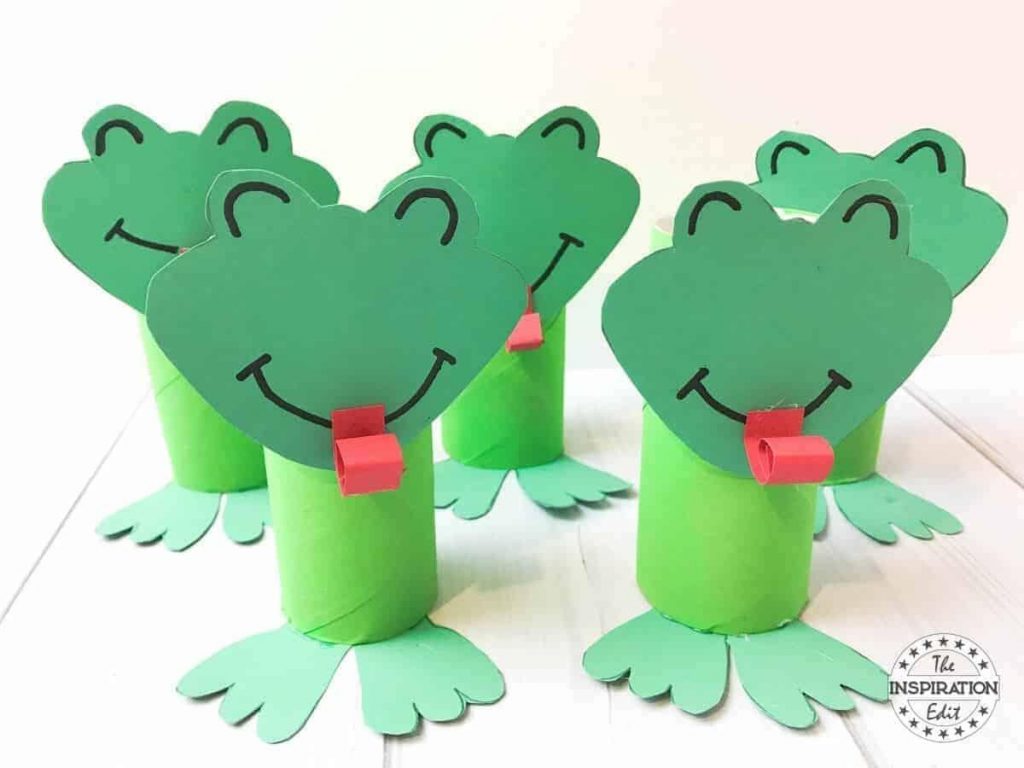 This is another exciting idea that you can make with toilet paper. Let's cut and paint different shapes with your kids! You can make a set of many frogs. Your little ones will surely be delighted.
The frog life cycle is a popular topic for many teaching activities. With several materials such as googly eyes, small and white pom poms, big/ medium green pom poms, your children can make a vivid frog life cycle.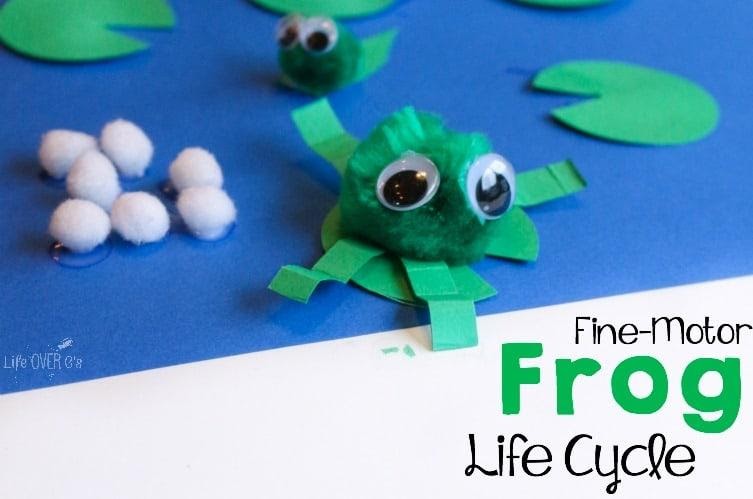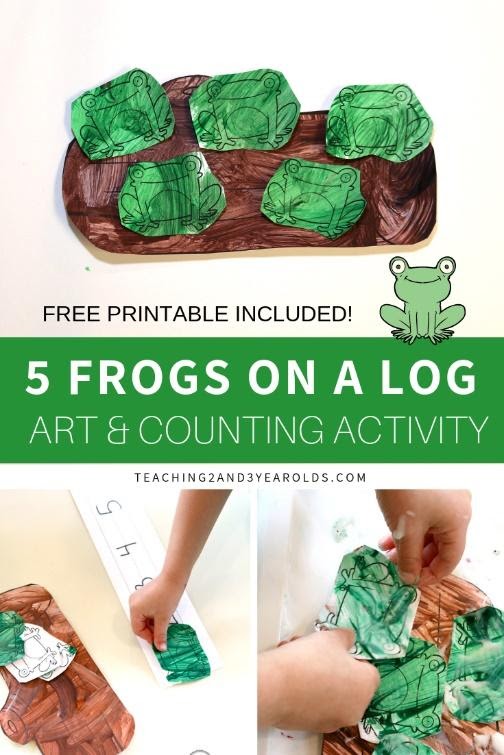 By putting together the frogs on a log, your children can learn counting as well. The activity is not difficult to make when you can print out the free template.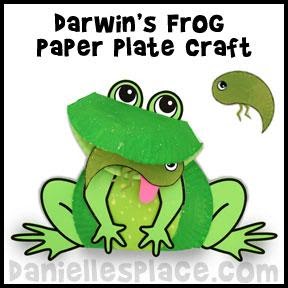 Many parents may know this crafting idea as it is so famous. It is attached with a discovery from Charles Darwin. The materials for this project are also basic and easy to prepare.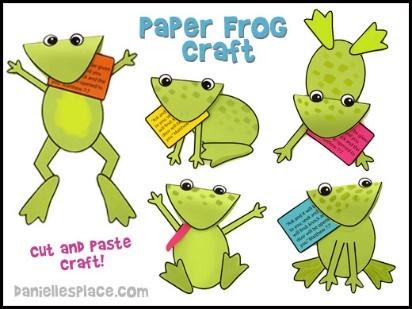 Your children will be amazed at some frogs having note paper in their mouths. You can use these adorable frogs in many ways. Besides, you can guide your children to create their frogs by adding spots or coloring them.
You can use a clothespin to make a funny frog as it looks like the frog is opening and closing its mouth. This project can help your children laugh all day.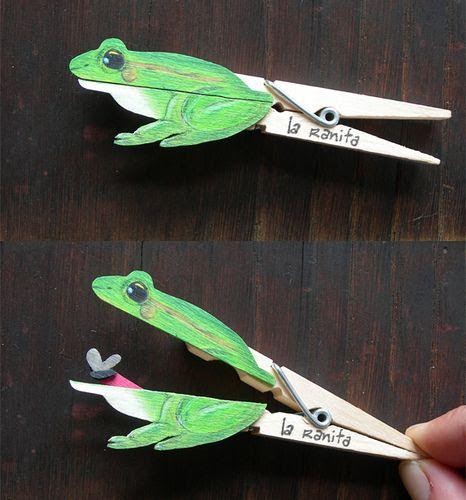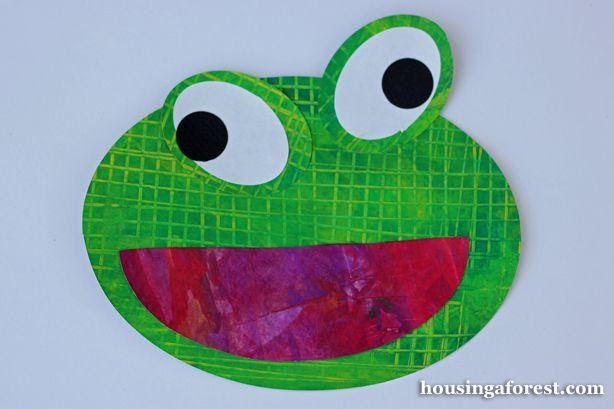 These simple Eric Carle-inspired frogs will be a lovely handicraft that kids will love.
When you finish your cold drink in plastic cups, do not be in a hurry to throw it away. You can completely recycle these plastic cups into perfect crafts – Eco Froggy Bank. This manual work not only helps you to protect the environment but also creates a lovely object.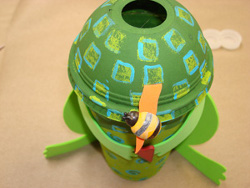 April is the month of the National Frog. It is a good time for children to learn more about frogs. In particular, children will more readily absorb information through manual jobs, such as making Foam Cup Frog Craft.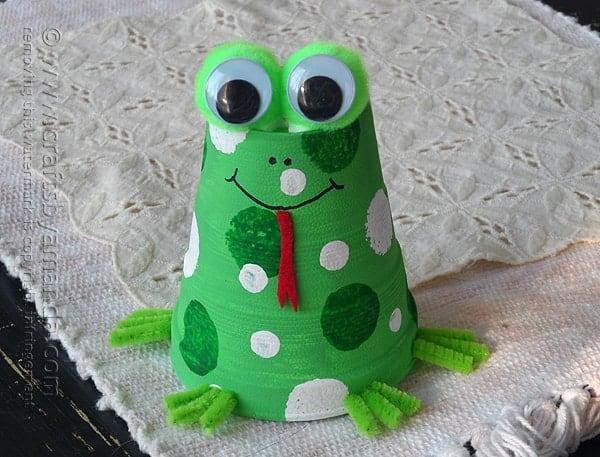 First created and introduced by Jim Henson in 1955, Kermit the Frog is the most famous Frog of all time. Kermit the Frog is the best friend of every kid. He participated in movies and appeared in popular TV shows like The Muppet Show or Sesame Street.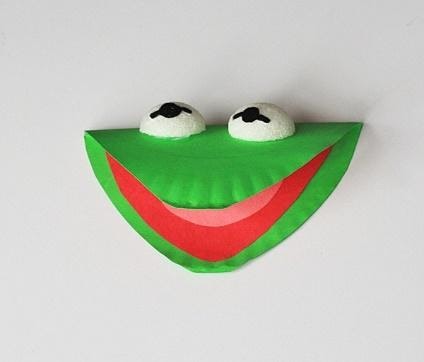 Many kids will choose to keep the frog as a pet. These animals are both gentle and easy to interest children because of their rugged appearance. Creating a Pet Frog Sensory Bin with Aquarium Rocks will make it easier for children to explore.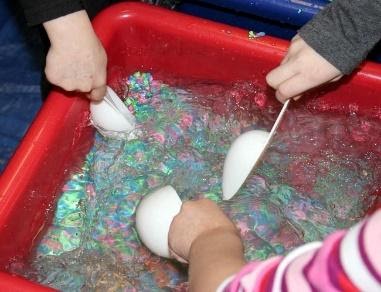 The frogs will extend their tongues to catch a fly while it is foraging. The action is fun, but the child will usually only be observed through a documentary. So, why not try for children to experience this whole feeling for themselves? Catching flies with the party blower in frog catching is a great option.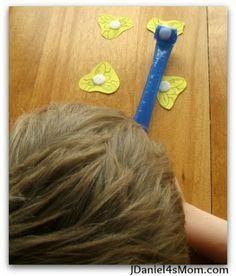 Dot makers are one of the fun ways to learn that kids can learn. Furthermore, they can be used in many different ways so you won't have to worry that your child will get bored.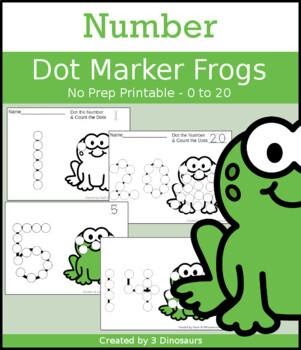 This handcrafted little frog looks cute because of its smile. The way to do it is quite simple, you need the circles with half of a circle, and you're done.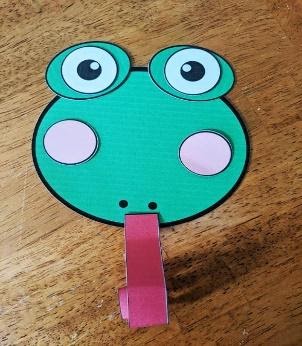 This idea will be ideal after Easter as you can save some green egg leftovers and turn them into little frogs. All the materials you need are green paper, glue, scissors, green plastic easter eggs, and googly eyes. You can then instruct your little ones to cut some frog legs and stick everything into the eggs.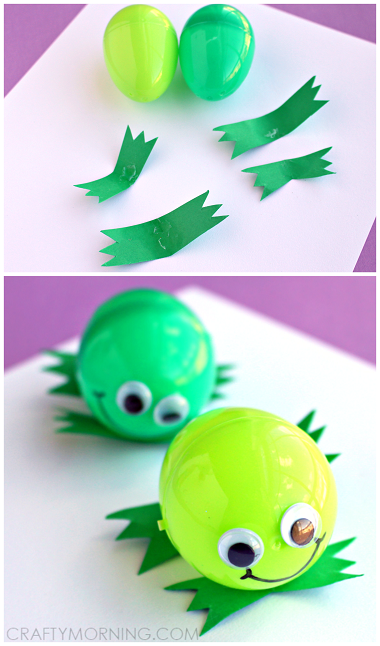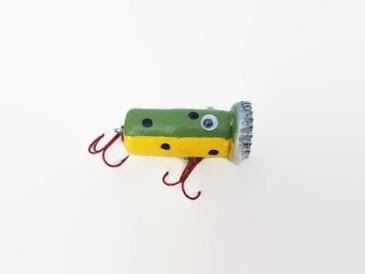 Using wine corks to make crafts for children is a creative idea. Any item can be recycled to contribute to impressive work.
This frog comes from a milk box that will surely delight children. You can both recycle trash and create toys for your children.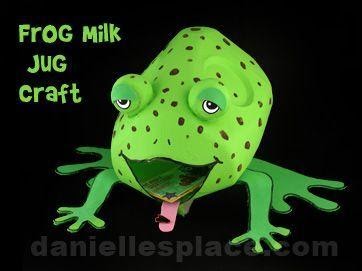 This frog-shaped Burger looks funny and attractive. This delightful meal will make children enjoy and eat deliciously. Do not forget the salad and vegetables with your meal!
It is great if the child gets an early exposure to origami. This simple paper folding game will help your child learn many things. Why don't you let your kids try making frog corner bookmarks? It will be beneficial.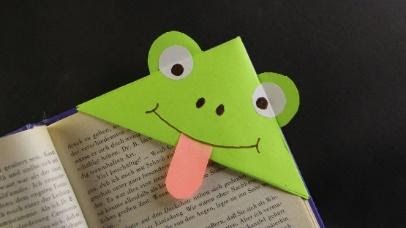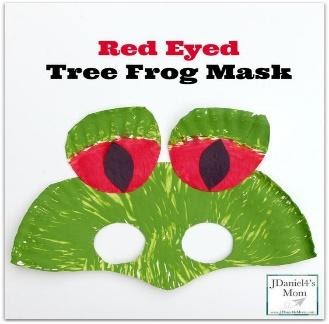 Unlike normal frogs, red-eyed tree frogs live mainly in cold rain forests. These signature red eyes are the feature most easily discernible. Red-eyed tree frog disc mask will be an activity to help children get to this frog quickly.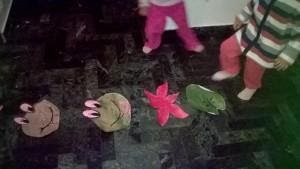 Jump Frog is a game that can keep your child addicted for a long time. This activity is part of the fun summer games.
First, you will have to draw frogs, lotus flowers, and leaves. After that, stick them on the floor so that the kids can hardly win in one jump. If you jump on the frog, you will be disqualified.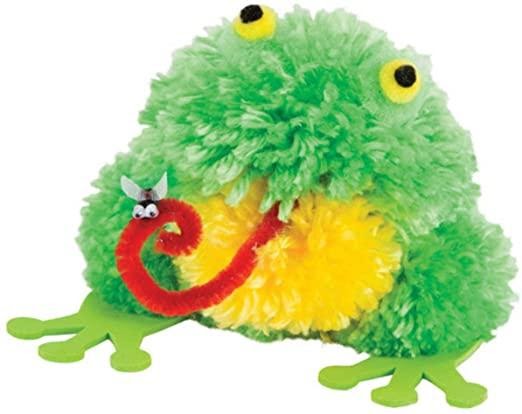 Pom Pom Frog – This close friend of the frog will bond with your child because he or she will love it. With a cute appearance, the way to make them is so easy that kids can make it themselves.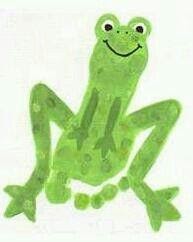 Besides Handprint Frog, why not let your child make a frog drawing from a footprint? This fun drawing will make children use their creativity to adjust their footprints to be the most frog-like.
The Final Sayings
As you can see, crafting aims to make fun and help kids develop their skills. There are hundreds of ideas that are easy for you and your kids to make. These ideas also come with straightforward tutorials to follow step by step.
The above frog craft activities for kids will be entertaining and engaging if you can do them at home or school. Children love animals, and mostly they will be more delighted when making them on their own.