Welcome to the Wonderful World of Sensory Bins Series! This month I am back with a new book-inspired sensory bin! Sensory bins are a lot of fun, but are also a great way to incorporate some hands-on learning! I like to tie in great children's literature with my sensory bins, so that is what I am going to try to do as a contributor for Enchanted Homeschooling Mom each month. I find that sensory bins combined with a good children's book is a great way to introduce new books to my son. It also allows him to sit and listen to longer books while keeping his hands busy. Book-based sensory bins are also a hands-on way to work on reading comprehension, story sequencing and retelling a story.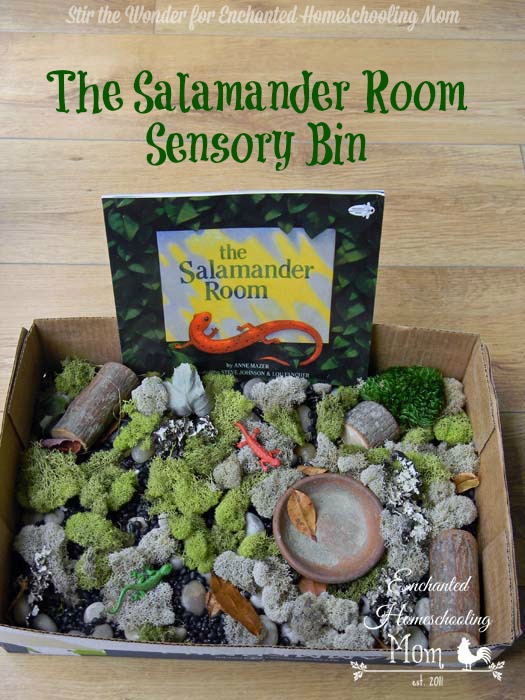 This month's sensory bin is inspired by the book The Salamander Room by Anne Mazer. It's a story about a little boy who finds a salamander in the woods, takes him home and transforms his room, using his imagination,into the perfect environment for the salamander to live. I immediately fell in love with this book because it reminds me so much of my son.
To create this sensory bin you will need to following supplies:
A shallow container (I used the lid to a paper box to give the bin a more natural feel.)
Black beans and small stones for a filler
Nature/Tree blocks
Leaves from the yard
Water dish (We used a small terracotta dish we had laying around.)
We did this sensory bin a little different than usual as I had Caden help me put it together. We started by emptying the package of moss into the bin and then went out in the yard to collect some fallen leaves. While reading the book we slowly added in the other elements mentioned in the story. We added a dish of water for the salamanders to drink and some tree stumps for them to sun themselves, just like in the book.
Later we moved the moss out-of-the-way and added in some black beans and small stones to fill the bin up a bit more. And then Caden added the moss back to the bin for the salamanders to hide in. Caden really enjoyed helping to create the sensory bin this time. I like it because it adds another layer of exploration to the sensory bin. Caden was able to see, touch and smell the individual elements one at a time and then later as part of the sensory bin.
Even though Caden loves this book and was interested in helping me create this sensory bin, he wasn't too keen to play with it once it was done. But that doesn't mean I stopped encouraging him to play with it. It just means I had to try to find different ways of engaging him. I moved the bin around to a couple of different locations in the house and picked up an additional nonfiction book about salamanders.
These minor changes helped to peak his interest! And with the addition of several other miniature reptile and insect figures, Caden enjoyed playing with the Salamander Room Sensory Bin all week-long.
Check out last month's Goodnight Construction Site Sensory Bin inspired by the book Goodnight, Goodnight Construction Site by Sherri Duskey Rinker. And for more information on how to create sensory bins and some wonderful sensory bin ideas from across the web be sure to read Sensory Bin 101!