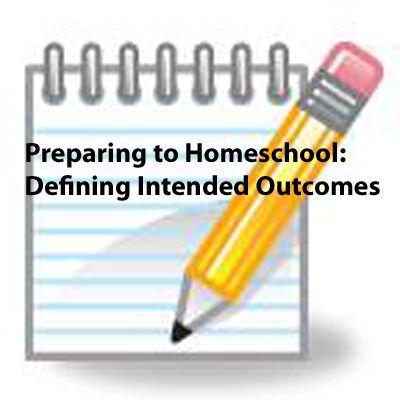 Our primary goal with choosing to homeschool was to ensure that our children had a quality education delivered in a comfortable, safe, and fun environment. We wanted to be able to customize our educational approach to fit the needs of each child and reap the additional benefits of more family time, flexible vacation time and scheduling. Deciding how to best approach these goals was challenging. There is a lot of advice out there on methods of homeschooling, tons of reviews on a vast array of curriculum choices, and multiple sites offering guidance on identifying your child's learning style. Truthfully, in the beginning it was really overwhelming for us.
My husband and I decided that instead of trying to immediately identify a curriculum or teaching methodology that we would define a list of intended outcomes, i.e. a list of goals and priorities that we wanted to make sure were accomplished during our years as homeschooling parents. There is a plethora of research recognizing that writing down goals significantly increases the likelihood of the goals being obtained. Our hope was that if we thought broad picture, similar to a mission statement, that we would be able to use and modify our initial list into a working document resulting in specific goals or objectives each term for each student that were doable over set periods of time and had measurable results. Creating goals that are specific, attainable over reasonable periods of time (in this case a "school" term), and are measurable in some way also significantly increase the likelihood of the goal being successfully achieved. We plan to consistently refer to this initial document of intended outcomes for our homeschooling journey at regular intervals and believe it will help us to focus our energies and educational choices in meaningful ways that will best benefit our children.
In order to create a list of intended outcomes, my husband and I started brainstorming using a very powerful question. Imagine your child is an adult and ready to embark on a world outside of your home. What do you want that child, now adult to be like? What characteristics, knowledge, abilities, skills, and ethics do you want to instill in that person? Certainly not all of our long-term goals for our children will be the same as those for children in other families. A select, few examples of initial intended outcomes our family generated are listed below.
S/he is armed with a strong faith in God
S/he has a strong sense of community and is kind and compassionated towards others
S/he understand how to care for body and personal health
S/he has fiscal responsibility and understands what money can and cannot do
S/he has an appreciation for living things and the outdoors
S/he has respect for his/her own culture and history as well as that of others
S/he is well read and armed with strong reading comprehension abilities
S/he is well traveled and comfortable in unique environments and circumstances
S/he has an appreciation for music and art
S/he is able to academically and professionally succeed
S/he is able to research and assimilate information to form their own opinions and ideas
S/he is able to communication clearly and effectively using writing and speech
S/he aware of current issues and events
S/he is an independent learner and knows how to approach obstacles and challenges
As a working document, we are constantly updating, changing, or rewording certain aspects of the intended outcomes we hope to achieve while homeschooling our children. We fully intend to utilize this document during the course of our homeschooling journey and are excited for the time when we can share and modify this document with input from our children. This exercise of identifying intended outcomes has also had the added benefit of fueling our excitement at all the great options and flexibility that homeschooling our children will provide.
Do you have a mission statement, goal sheet, or set of objectives identifying the intended outcomes for your homeschool? What qualities or skills do you hope your kids exhibit as they enter adulthood?