Please note that due to the lengthy topics I will not be able to cover all topics in full detail so please feel free to comment on the posts or email me. If you are a blogger and have an article that you think fits a certain topic please email me with the link and I will be more than happy to include your link in my ABC's of Homeschooling 5 day series. Here are today's additions to the series…
Since you are your student's teacher as a homeschooler, you must be prepared to use any and all resources at your disposal.  This particular segment of resources that I am talking about is printables and curriculum.  This section is split into two parts, printables and curriculum.
In regards to printables, in making the decision to homeschool you are now blessed with being able to create, download, or buy any printable out there that you want.  As a homeschool teacher you may find that your student needs a little more work on a subject, so you hit the internet to find one.  I have found that most topics have printables ranging from free to really expensive.  I would recommend taking the time to look at sample products that people create so that you know if it is going to be just busy work or if it will actually fit the need you want the printable for.  And remember, since you are the teacher you are setting the pace for your student, so do not be afraid to add things not in your core curriculum if you want to make sure it is covered.  I find that I am always looking for printables to teach things that my core curriculum does not emphasize, but I want to be important.  I find that Elizabeth really likes historical things, so I look for printables that fit with what we are currently studying.  Also, when I cannot find what I am looking for I will take the time to research it, like I would have to do in any teaching environment, then I create my own printable for Beck and/or Elizabeth.  Then, I share it on my
E.H.M. Member's Only Website
.  Do not be afraid to find free printables, pay for printables, or create your own.  As a homeschool teacher you can use whatever you wish to insure that your students get the education you want them to.
Once you know what printables and curriculums you want to use we should discuss a little about the next topic…
How many times have you heard this phase spoken by other families you know? "Wow, little Timmy had so much homework today!" So, as a student little Timmy just spent 6 to 8 hours at school learning and has to turn in a bunch of work that he has to do at home tonight.  I know that for me, as the teacher, I am able to efficiently teach my children what they need to know in the time that I have allotted since I am only responsible for teaching my children not a classroom of 25 plus students. I have the greatest respect for teachers in a classroom setting as they are not only following state standards and their school district "rules" but they are also teaching 25 plus different learning styles and attention spans all at the same time.  Yes, there are times when a work sheet or experiment needs to be done when 'daddy' gets home in our homeschool setting, but in general, the school day ends with all work being completed during school time.  This means that our curriculums are not based on quantity of work, but rather rely on quality of work.  The curriculums that we teach as homeschoolers are geared towards the individual learner and not a classroom of 25 or more students who tend to be at all different levels of understanding and attention spans.  The quality of the curriculum you choose will help you lessen the impacts to your non-school portions of your days.
Now, since you might be thinking to yourself that since I homeschool my days will be shorter. You could be correct, but you must remember that we have benchmarks to meet as homeschoolers.  This means that if your student is not getting a topic at hand or is struggling, then you should look for additional worksheets, printables, field trips or activities to boost their level of confidence in a subject.  Not all subjects will require this, but at some point each student will need more reinforcement on a subject or two.  At these times it is important that although mastery of a subject will come from repetition, repetition for repetitions sake could do more harm to your homeschooler then good.  It will be a fine line between quantity and quality, but with quality there is less need for quantity.
Scheduling is very important in my everyday life.  Scheduling means that I can allot time for various activities throughout the week and still have some time left over to do the things that I want to.  This does not always work out, but as a homeschooling mom, teacher, parent, blogger, wife, and printable/curriculum writer I have to make sure I have time for everything, including myself.
Even though we have the freedom to do what we want as homeschoolers, I feel it is important for my children to develop a set schedule.  In our household we have a set routine that we follow.  When it comes to homeschooling I have developed, a set schedule of subjects and topics that I teach that utilizes school planners. Each year I have adjusted to the new subject matter and teaching styles of the curriculums that I am using and map out the entire year in my school planner.  Each day I try to adhere to the school planner for the day to keep the flow of the school day moving forward.
Once the school day is over we also adhere to a routine for the house hold too.  As a family we have developed a routine that involves making sure the dogs are taken care of, household chores are done by all (not just me thankfully), the children get play time, my husband and I can spend time with each other and the children, and the children get a set bedtime routine as well (clean-up, brush teeth, store, bed by 8 pm).  I am not advocating using a timer and then moving from item to item, but rather setting up our routine allows our family to get the things we have to and want to done each day.  I do strongly feel that if the children can be given a set routine then they will learn that there are times that you have to do school work, chores, play, and do whatever you like. Our routine allows our family to be organized and efficient with our time when we need to be.  And yes, I do know that there are times that routine gets thrown out the window, but since we do have a routine it is easier to get back in the swing of things after events like the start of a school year, coming back from a break or vacation, or even from a simple illness.  The fighting, tears, and stress is less with each year since the schedule is set in place.
Are you in planning mode for this homeschool year or even next homeschool year? You may find some useful information, links or resources in my Behind The Scenes Series which covers several years and different grade levels of my lesson plans. Just click the link below:
Teaching style means a lot of different things to a lot of different people.  Not only is every teacher different, but each student learns differently, then, you have to consider that each subject or curriculum will need to be taught differently.  In this day and age of technology we, as homeschooling teachers, also have to consider the medium of the curriculum.  Is it digital or hard copy? Do you have it in front of you, downloaded, or do you log into a website to use it?  There are so many options out there right now that you need to be careful with how you present your child with what they are learning.
One of the hardest things for me to understand a few years back is that Beck and Elizabeth are two different types of learners.  They absorb information in different ways from one another most of the time.  I will admit that sometimes they learn the same way, but mostly they do not.  I have had to adapt my teaching style to understand that Beck will get almost anything presented in an electronic fashion and Elizabeth prefers the written way, on my white erase board.  I found that if I fought this then I would see the school day drag on and their enthusiasm would wane.  Now that I am aware of this difference in their learning methods I have adapted my teaching style to include elements that they will connect with the best and get the most out of what I am teaching them.  Do not get me wrong, I still use the white board with Beck and the computer for Elizabeth, but I can see when one (or both) are struggling with what I am presenting and can change the way I am teaching to accommodate them.  Since I can change my teaching style to help them stay connected I find that they are absorbing, learning, and having a better homeschooling journey.  It did take me some time (almost 2 years, if I remember correctly) to train myself to see these differences in their learning and to develop my teaching style, but once I did it was smoother sailing on our homeschooling journey.  Once you develop your teaching style based on your student's learning style your journey might be smoother for everyone involved.
Please be sure to come back tomorrow where I will we discussing understanding state laws, videos, why choose homeschooling, x-ray googles, yes to record keeping and the zoo.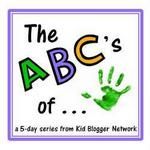 Alphabet clip art by: