Please note that due to the lengthy topics I will not be able to cover all topics in full detail so please feel free to comment on the posts or email me. If you are a blogger and have an article that you think fits a certain topic please email me with the link and I will be more than happy to include your link in my ABC's of Homeschooling 5 day series.  Here are today's additions to the series…
The Kindle is an amazing homeschooling resource.  It is amazing how much money you can save by buying books that you need in an electronic format.  I have also found that if you look in the right place you can find a lot of free books for the Kindle out there too.  One of the best things that I have found about the Kindle is it also has a free reader app that most phones can download and use.  This same app is also available for your computer.  This is how I use it since I do not actually own a Kindle. My phone, laptop and desktop all have the Kindle reader on it so that I can use the books for school anywhere in the home or on the go.  Here are some wonderful sites to follow that will let you know about all of the latest free Kindle books:
Not sure if eReaders are a good fit for your child? Here is a great article about this topic:
I cannot say this enough, find your local library, befriend the children's librarian (or other librarians), and request away.  I would highly recommend getting a library card for each and every member of your family.  Our library system lets us check out 100 items at a time per member.  This means that with all of our cards we can have up to 400 books or movies out.  This might seem like a lot to manage, and I agree.  To help with this I created this handy-dandy organizational sheet to track my books. To read more about this form click
HERE
.
I also do my best to stay on top of all the library items I have checked out by using the library's computer system.  Most libraries will let you set-up an account for each card that will let you track due dates and allow you to make the all important request so that you can get items you want when you need them.One trick I have found that has worked over the years is keeping an ongoing library book list for the year broken down by months. You can download a free copy of my Seasonal Books to request for the entire school year
HERE
.
Also, if you remember I mentioned getting a Teacher Library card yesterday too.  At our local library the teacher card only lets me check out 50 items, but if the item is part of what they term 'for a classroom use' then I do not get fines for turning the items in late.  This is a blessing since some of the harder to find books that our library system does not have many copies of tend to show up at a point and time when I cannot immediately start using them in our lessons. Without fines I can keep it a few days extra and use it as I need it rather than rushing to squeeze it into our lessons.
I can always remember going to museums with my school as a child.  These were fun trips.  I still like to include them in my homeschooling today for my children because learning from the local museums is fun.  I have also found that there are a lot of museums out there that cover a multitude of topics.  You should be able to find one or two that tailor to the likes and needs of your family.  I try to plan day trips and will center the lessons for the day around the museum that we are going to.  Also, look for museum discount cards, museum run programs, and remember, you are a homeschool teacher so most museums will have programs for teachers that you can utilize.  Do not be afraid to use your teacher ID card if necessary or your student's ID card to get discounts either.
Nature is all around us, why not embrace it?  As homeschooling families we can utilize nature as a tool, to play in (or with), and to learn from.  Our family tends to play a lot in the nature around us.  We are fortunate enough to live in a rural setting.  As some of you might know, we have three dogs and lots of birds and squirrels that frequent our general area.  When our core science curriculum or one of my unit studies call for it we like to take to the outdoors and learn.  We also like to take nature walks from time-to-time and just learn from the trees, bugs, and animals we find in the nature around us.  Nature is also a great tool to learn from as well because it is always changing and this change means that there is always something to learn about. The news is also always filled with stories about how nature affects our lives and on multiple occasions nature has given me the opportunity to research and explain something to Beck or Elizabeth.  An example of this that I remember is that when the terrible tsunami struck Japan Beck asked simply, "Mom, what's tsunami and can it get us?"  I spent the next few days teaching about tsunamis and their effects to the children.  This ever changing aspect of nature affords me ample opportunity to expand my homeschooling topics. Here are some wonderful articles on this topic:
As homeschooling families we will most likely all experience a plethora or obstacles to overcome.  These range from the opinions of others that I discussed yesterday to the questions from our children that we just not have the answer to when they ask it.  As a homeschool teacher you will learn skills that you can put to use and all other aspects of your life to.  As a homeschooler you can take the time to get the right answer anytime you need to.  You have lots of resources out there to help you, but the bottom line is that you will have to overcome them.  Obstacles can come in many shapes and sizes ranging from lack of knowledge on a subject; to lack of funds to buy something; to lack of time to clean the house (try giving up sleep, right?); to this; and to that.  Homeschooling is not an easy option for anyone, but rest assured that you are not alone.  You might find a friend who can help out every so often (love those sleep-overs at the neighbors!), to a family member that might come do a chore for you, to relying on your spouse for support.  No matter how you do it, you will learn to overcome any obstacle that is thrown at you.  And remember this too, as you overcome those obstacles your children will see that they too can overcome any obstacle because they will see the results of your hard work and determination in the education that they receive. Click
HERE
 to read about just some of the obstacles that our family has faced in our 6 year journey down the homeschooling path.
Please be sure to come back tomorrow where I will be discussing printables and curriculum, quality vs. quantity, religion, schedule and teaching style. Make sure to hop on over to see all of the fabulous topics being covered during this 5 day series by clicking the button below: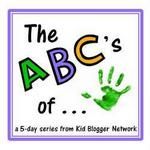 Participants for the 5 Day Series Blog Category of School Activities (make sure to hop on over and say "Hello!"):
Alphabet clip art by: