I believe the ability to be flexible is the key to any homeschooling family's success in their homeschooling journey.   Everyone's version of flexibility is different, but for you, flexibility might also mean the ability to use the curriculum of your choosing. For our family the ability to hand select different curriculum's for each of our children is key to their learning success.
No matter how you homeschool (scheduled routines, unschooling, or laid back approach) and no matter how much or detailed you plan your lessons (or don't plan the lessons) there will always be days where flexibility takes on a different terminology. There are times where you have to be flexible due to a mental road block in a certain subject, illness, the washing machine breaking or any of the other multitudes of things that make up our lives.
Do not be fooled though.  This flexibility does not mean that you need to allow your neighbor to stop by unexpectedly to shoot the breeze and interrupt a lesson with your child. Your child's education is the top priority during a school day or your typical "school hours".
Balance in your life is almost the most important thing you can strive for.  Balance can mean different things to different people, but balance in homeschooling means being able to juggle your school time, chores, relaxation, and all the other aspects of everyday life.  Be sure to balance for your time each day to a lot for schooling just like you do for all your other activities like cooking, cleaning, laundry, relaxation, and family times.  Everyday distractions can cause you to lose focus on your school requirements, so try to remember that you have to balance it out by setting up your routine. You do tend to have a distinct advantage when you homeschool because if you do end up needing to unbalance your day you can shift and be flexible.
January is one of the largest months for new families to join the homeschooling community since it is half way through the school year for most students. From my own personal experience all of the homeschooling families that I meet have been in and out of several different types of programs before they found that Cinderella slipper that just fits their family's needs just right. I can remember in the first few years feeling so lost and out of place that I struggled to find a homeschooling "home" where I felt at ease and not guilty about leaving a program mid-year or even at the end of a year. It helps to remember that if your program constantly weighs on your mind and doesn't bring a smile to your face it may not be the right homeschooling program/school for you.
Often people think that if you homeschool through a local charter school that it is not actually homeschooling. There is a stigma attached to charter schools that you are just simply doing the work assigned to you on a weekly/monthly basis. This is not the case for our family. You have so many options when to comes to homeschooling but I highly recommend at least touring several local charter homeschools in your area.
Since you are home schooling where are you going to do it?  I mean, you know it will be at home, but where in your home?  For the first few years of our homeschooling journey we lived in a very small home and had no family room essentially since it was taken over by our Preschool and Kindergarten materials. A year and a half ago we decided to move to a more rural location which also allows our family to find a larger home with more space.
We have been fortunate to set-up a distinct schooling area (our guest bedroom) that is used only for school.  Having our own school room means that we I can set-up school days or leave project's out and the rest of the activities happening in the house generally will not interrupt our school 'stuff,' and it works the other way too.  And yes, I know this is easier said than done, so here are some of my favorite resources for gathering some creativity and inspiration on how to set-up your dedicated schooling area:
"Not" Back-to-School Blog Hop: School Room Hop (there are just so many different ways that we all homeschool that it's marvelous to look around at all of the creativity!)
This is perfect for your homeschool room! (I love this printable subway art!)
5 Minute Art Display
Is your dedicated school space your dining room or kitchen table? Prior to our family moving in our current home a little over a year ago our dedicated schooling area was in our dining room/kitchen table area of our very small home. It never bothered me that we would have to move books and supplies off of the table to eat our meals or have guest over. What did bother me is that I did not want my only "nice" table looking like an art project itself. Hop on over to see the quick fix that our family used to easily school at our dining room table that saved our table from turning into an art project:
Did you know that as homeschooler's most states require that your children have P.E. credits? As homeschooling families our days are already jammed packed trying to teach our children all of their lessons, maintain our homes that serve as our classrooms and shuttle the children around to their enrichment activities. It is so easy at the end of a school day (whether that be 11:00am or 3:00pm) to push physical education off to the side and tell yourself "It's OK, one day won't hurt them and I'll do extra tomorrow" or "They played on the playground and rode their bikes to their friends house". I myself was in this world of denial several years ago. Then we found the Family Time Fitness curriculum which is easy and so much fun. I will admit that I was hesitant to spend such a large amount on the physical education curriculum (as was my husband).  Now, I think this curriculum is worth every penny and then some in my opinion. I find it is like having a P.E. Teacher or Personal Trainer in your pocket, computer, phone or in my case, a binder, LOL. It's like someone called Jiminy Cricket in for help at the Family Time Fitness Company and somehow they managed to squeeze the little guy into everyone's "shopping bag". This curriculum can easily be tailored to do indoors or outdoors so the weather is not an issue anymore.
To add a little fun to keeping our Physical Education records I created these brick themed logs for my children. You can download these forms for free HERE. Would you like some more suggestions on how to integrate exercise into your homeschooling routine? Here are some wonderful articles and products to help you look further into the topic of exercise in your homeschool:
Please be sure to come back tomorrow where I will we discussing family, grading, hands on science, ID cards, and judgment. Make sure to hop on over to see all of the fabulous topics being covered during this 5 day series by clicking the button below: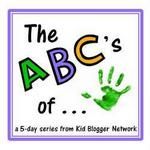 Participants for the 5 Day Series Blog Category of School Activities (make sure to hop on over and say "Hello!"):
Alphabet clip art by: