Tomorrow marks the start of the
ABC's of … series
being organized by the Kid's Blogger Network .  I am excited to be participating and will be taking the next five days to focus on the topic of homeschooling.  I will be discussing 26 different themed topics that directly relate to homeschooling.  This series is not just about homeschooling, so there will also be so many fellow bloggers participating in such a wide variety of topics that this series is sure to keep all of us busy in some fashion hopping around and reading posts on all the various topics!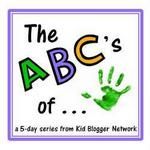 I look forward to having you coming back to hear what I have to say about homeschooling, a topic that you know is near and dear to my heart and important to my family.  I will be providing insight, techniques, and hopefully you will be able to see a little more behind the curtain of my homeschooling journey.   Here are the homeschooling related topics that I will be discussing for the next five days:
Day 1: A-E
A-bility to be flexible

B-alance in your life

C-harter schools

D-edicated schooling area

E-xercise
Day 2: F-J
F-amily bond

G-rading

H-ands on science

I-d cards

J-udgement
Day 3: K-O
K-indle

L-ibrary

M-useums

N-ature

O-vercoming obstacles
Day 4: P-T
P-rintables & curriculum

Q-uality vs. quantity

R-eligion

S-chedule

T-eaching style
Day 5: U-Z
U-nderstanding state laws

V-ideos

W-hy choose homeschooling

X-ray googles

Y-es to keeping records

Z-oo
If you are interested in homeschooling I hope to see you back starting tomorrow to see what I have to say.